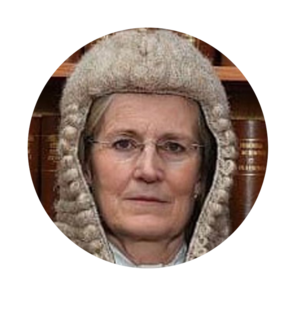 Judge Emma Arbuthnot
Emma Arbuthnot, Baroness of Edrom, is a Chief magistrate in London. She oversees Judge Baraitser as the senior judge.
---
Ironically, in her ruling from February 2018, Arbuthnot had said that Assange's fears of U.S. extradition were not "reasonable," and dismissed concerns about his health problems, remarking that they "could be much worse."
In August 2018, Arbuthnot recused herself from further involvement in the Uber licensing case in London after it was alleged that there may be a conflict of interest due to "her husband's work for a strategy firm that has advised one of Uber's largest investors," the Qatar Ministry of Foreign Affairs and Investment Authority (QIA). QIA is a client of SC Strategy Ltd, co-founded by Lord Alexander Charles Carlile and former MI6 chief Sir John Scarlett, and Mr. James Arbuthnot has been a consultant there. It was later argued in court that Arbuthnot "had failed to check whether her family had a financial interest in the issue." Arbuthnot has said she was not aware of the connection with her husband's work.
Mr. Arbuthnot is also chairman of the advisory board for the large U.K. subsidiary of Thales Group, a military arms and communication systems manufacturer. WikiLeaks has published documents about them within various releases (including under their former name, Thomson-CSF), such as their response to the "Blue Lantern" inquiry by the U.S. State Department.
The British parliament's register of interests shows that in October 2014, Lady Arbuthnot was provided with tickets worth £1,250 to the Chelsea Flower Show in London along with her husband. The tickets were provided by Bechtel Management Company Ltd, part of the major US military corporation, Bechtel, whose contracts with the UK's Ministry of Defence include a project worth up to £215m to transform its Defence Equipment & Support Organisation, the body that buys and supports all the equipment used by the British armed forces.
Another of Bechtel's business lines is "industrial cybersecurity", a term which is often a euphemism for cyber warfare and surveillance technology.
WikiLeaks' releases on Bechtel have shown the company's close connections to US foreign policy. Cables published in 2011, for example, show that the US ambassador to Egypt, Margaret Scobey, pressured the Ministry of Electricity and Power to award a tender for technical consultancy and design of Egypt's first nuclear plant to Bechtel.
"I accept that Mr Assange had expressed fears of being returned to the United States from a very early stage in the Swedish extradition proceedings but… I do not find that Mr Assange's fears were reasonable," "I give little weight to the views of the Working Group," she added, referring to the United Nations body which termed Assange's condition one of "arbitrary detention". "I do not find that Mr Assange's stay in the Embassy is inappropriate, unjust, unpredictable, unreasonable, unnecessary or disproportionate."
sources