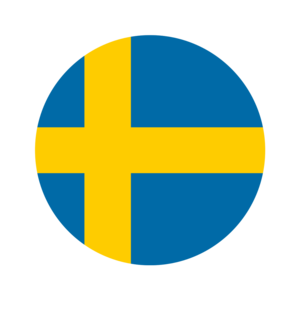 Sweden
Sweden, who led a 9y preliminary investigation for sexual assault and never formally charged Assange, in a dubious case that was further closed, and demolished -among others- by Nils Melzer, UN Special Rapporteur on torture. Issued a European Arrest Warrant against Assange that somewhat led to force him to seek refuge in the Ecuadorian embassy in London (to avoid deportation to Sweden where risk was high he would immediately be sent to the US, and got no warranty from Sweden they wouldn't do so. See below.)
From source: https://www.republik.ch/2020/01/31/nils-melzer-about-wikileaks-founder-julian-assange
Interview of Nils Melzer, UN Special Rapporteur on Torture:
Where did the story come from that Assange was seeking to avoid Swedish justice officials?
NM: This version was manufactured, but it is not consistent with the facts. Had he been trying to hide, he would not have appeared at the police station of his own free will. On the basis of the revised statement from S.W., an appeal was filed against the public prosecutor's attempt to suspend the investigation, and on Sept. 2, 2010, the rape proceedings were resumed. A legal representative by the name of Claes Borgström was appointed to the two women at public cost. The man was a law firm partner to the previous justice minister, Thomas Bodström, under whose supervision Swedish security personnel had seized two men who the U.S. found suspicious in the middle of Stockholm. The men were seized without any kind of legal proceedings and then handed over to the CIA, who proceeded to torture them. That shows the trans-Atlantic backdrop to this affair more clearly. After the resumption of the rape investigation, Assange repeatedly indicated through his lawyer that he wished to respond to the accusations. The public prosecutor responsible kept delaying. On one occasion, it didn't fit with the public prosecutor's schedule, on another, the police official responsible was sick. Three weeks later, his lawyer finally wrote that Assange really had to go to Berlin for a conference and asked if he was allowed to leave the country. The public prosecutor's office gave him written permission to leave Sweden for short periods of time.
And then?
NM: The point is: On the day that Julian Assange left Sweden, at a point in time when it wasn't clear if he was leaving for a short time or a long time, a warrant was issued for his arrest. He flew with Scandinavian Airlines from Stockholm to Berlin. During the flight, his laptops disappeared from his checked baggage. When he arrived in Berlin, Lufthansa requested an investigation from SAS, but the airline apparently declined to provide any information at all.
Why?
NM:That is exactly the problem. In this case, things are constantly happening that shouldn't actually be possible unless you look at them from a different angle. Assange, in any case, continued onward to London, but did not seek to hide from the judiciary. Via his Swedish lawyer, he offered public prosecutors several possible dates for questioning in Sweden – this correspondence exists. Then, the following happened: Assange caught wind of the fact that a secret criminal case had been opened against him in the U.S. At the time, it was not confirmed by the U.S., but today we know that it was true. As of that moment, Assange's lawyer began saying that his client was prepared to testify in Sweden, but he demanded diplomatic assurance that Sweden would not extradite him to the U.S.
Was that even a realistic scenario?
NM: Absolutely. Some years previously, as I already mentioned, Swedish security personnel had handed over two asylum applicants, both of whom were registered in Sweden, to the CIA without any legal proceedings. The abuse already started at the Stockholm airport, where they were mistreated, drugged and flown to Egypt, where they were tortured. We don't know if they were the only such cases. But we are aware of these cases because the men survived. Both later filed complaints with UN human rights agencies and won their case. Sweden was forced to pay each of them half a million dollars in damages.
Did Sweden agree to the demands submitted by Assange?
NM: The lawyers say that during the nearly seven years in which Assange lived in the Ecuadorian Embassy, they made over 30 offers to arrange for Assange to visit Sweden – in exchange for a guarantee that he would not be extradited to the U.S. The Swedes declined to provide such a guarantee by arguing that the U.S. had not made a formal request for extradition.
What is your view of the demand made by Assange's lawyers?
NM: Such diplomatic assurances are a routine international practice. People request assurances that they won't be extradited to places where there is a danger of serious human rights violations, completely irrespective of whether an extradition request has been filed by the country in question or not. It is a political procedure, not a legal one. Here's an example: Say France demands that Switzerland extradite a Kazakh businessman who lives in Switzerland but who is wanted by both France and Kazakhstan on tax fraud allegations. Switzerland sees no danger of torture in France, but does believe such a danger exists in Kazakhstan. So, Switzerland tells France: We'll extradite the man to you, but we want a diplomatic assurance that he won't be extradited onward to Kazakhstan. The French response is not: «Kazakhstan hasn't even filed a request!» Rather, they would, of course, grant such an assurance. The arguments coming from Sweden were tenuous at best. That is one part of it. The other, and I say this on the strength of all of my experience behind the scenes of standard international practice: If a country refuses to provide such a diplomatic assurance, then all doubts about the good intentions of the country in question are justified. Why shouldn't Sweden provide such assurances? From a legal perspective, after all, the U.S. has absolutely nothing to do with Swedish sex offense proceedings.
Why didn't Sweden want to offer such an assurance?
NM: You just have to look at how the case was run: For Sweden, it was never about the interests of the two women. Even after his request for assurances that he would not be extradited, Assange still wanted to testify. He said: If you cannot guarantee that I won't be extradited, then I am willing to be questioned in London or via video link.
But is it normal, or even legally acceptable, for Swedish authorities to travel to a different country for such an interrogation?
NM: That is a further indication that Sweden was never interested in finding the truth. For exactly these kinds of judiciary issues, there is a cooperation treaty between the United Kingdom and Sweden, which foresees that Swedish officials can travel to the UK, or vice versa, to conduct interrogations or that such questioning can take place via video link. During the period of time in question, such questioning between Sweden and England took place in 44 other cases. It was only in Julian Assange's case that Sweden insisted that it was essential for him to appear in person.
Why was that? There is only a single explanation for everything – for the refusal to grant diplomatic assurances, for the refusal to question him in London: They wanted to apprehend him so they could extradite him to the U.S. The number of breaches of law that accumulated in Sweden within just a few weeks during the preliminary criminal investigation is simply grotesque. The state assigned a legal adviser to the women who told them that the criminal interpretation of what they experienced was up to the state, and no longer up to them. When their legal adviser was asked about contradictions between the women's testimony and the narrative adhered to by public officials, the legal adviser said, in reference to the women: «ah, but they're not lawyers.» But for five long years the Swedish prosecution avoids questioning Assange regarding the purported rape, until his lawyers finally petitioned Sweden's Supreme Court to force the public prosecution to either press charges or close the case. When the Swedes told the UK that they may be forced to abandon the case, the British wrote back, worriedly: «Don't you dare get cold feet!!»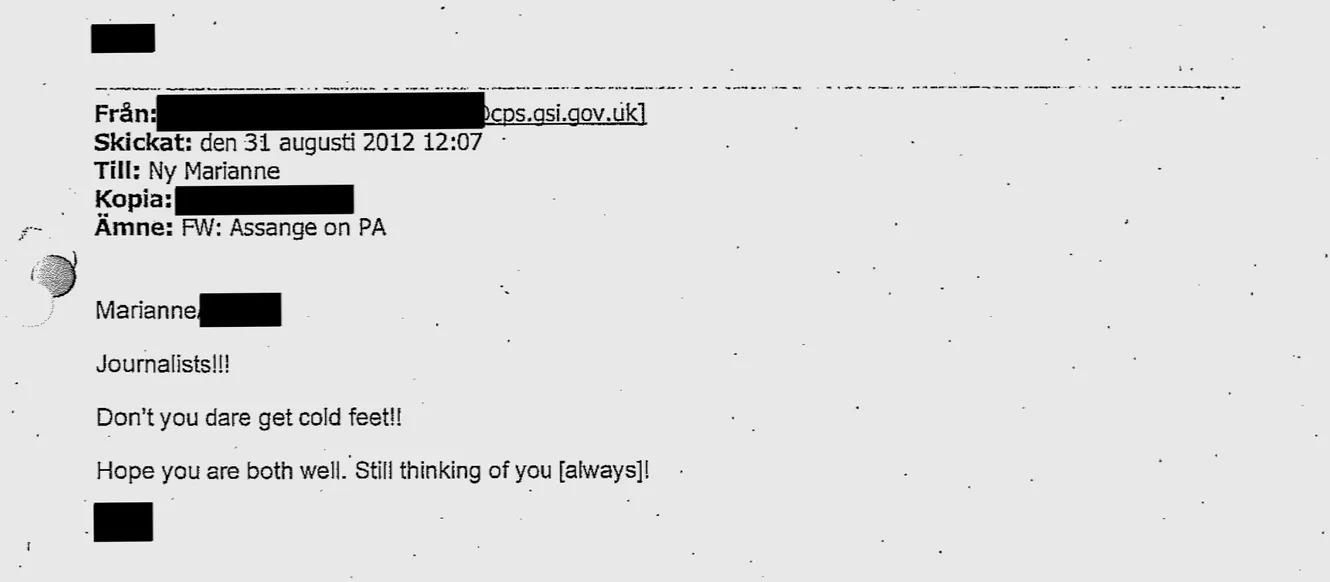 «Don't you dare get cold feet!!»: Mail from the English law enforcement agency CPS to the Swedish Chief Prosecutor Marianne Ny. This Document was obtained by the Italian investigative journalist, Stefania Maurizi, in a five-year long FOIA litigation which is still ongoing.
Are you serious? Yes, the British, or more specifically the Crown Prosecution Service, wanted to prevent Sweden from abandoning the case at all costs. Though really, the English should have been happy that they would no longer have to spend millions in taxpayer money to keep the Ecuadorian Embassy under constant surveillance to prevent Assange's escape.