USA + UK vs. Assange: 4th Jan 2021 - Extradition Verdict
BREAKING ! : Judge DENIES the extradition of Julian Assange !

The US is appealing the decision.
☞ Full judgement available here
S01E03 - The Empire Has No Clothes
The show trial that has been Julian Assange's extradition hearing has so far unfolded in two acts:

Act One -

The Set Up

(Woolwhich Crown Court, London - Febuary 24-28th 2020),

Act Two -

The Confrontation

(The Old Bailey, London - September 7th October-1st 2020).
Now, Act Three - The Resolution…in which History is written. Jan 4th 2021 : as the UK breaks away from Europe, will it brazenly spurn its Convention on Human Rights by ruling in favour of extraditing Assange to the US, where he faces up to 175 years in a supermax prison for revealing war crimes? Will the UK be complicit in the jailing of a publisher revealing public interest information, and hence set a precedent for anybody needing to hold power to account?
The judgement is scheduled to be pronounced on Monday Jan 4th. 2021 at 10am GMT at London's Old Bailey courthouse.
Global action vs. extradition
Join a #FreeAssange action near you or online, on and around the day of the verdict! Check updates and list your own actions (sign up required) using the calendar below:
Documenting the extradition verdict
Essential reading and viewing
Suggestions by twitter users: a mega-thread with links to background articles and videos about the #AssangeCase.
Press coverage ahead of the verdict
Read:
Watch:
Where ?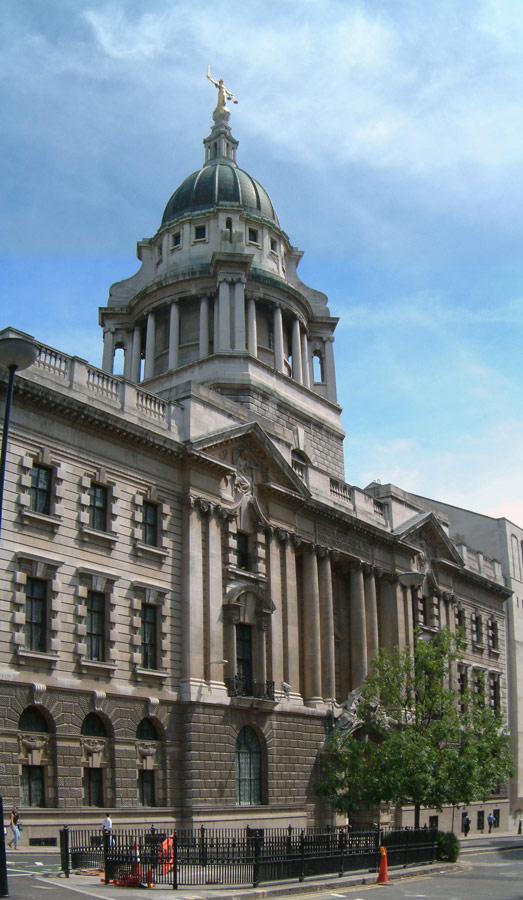 The extradition verdict will be delivered at The Old Bailey, the Central Criminal Court of England and Wales (commonly called the Old Bailey, after the street on which it stands), in Central London.
Access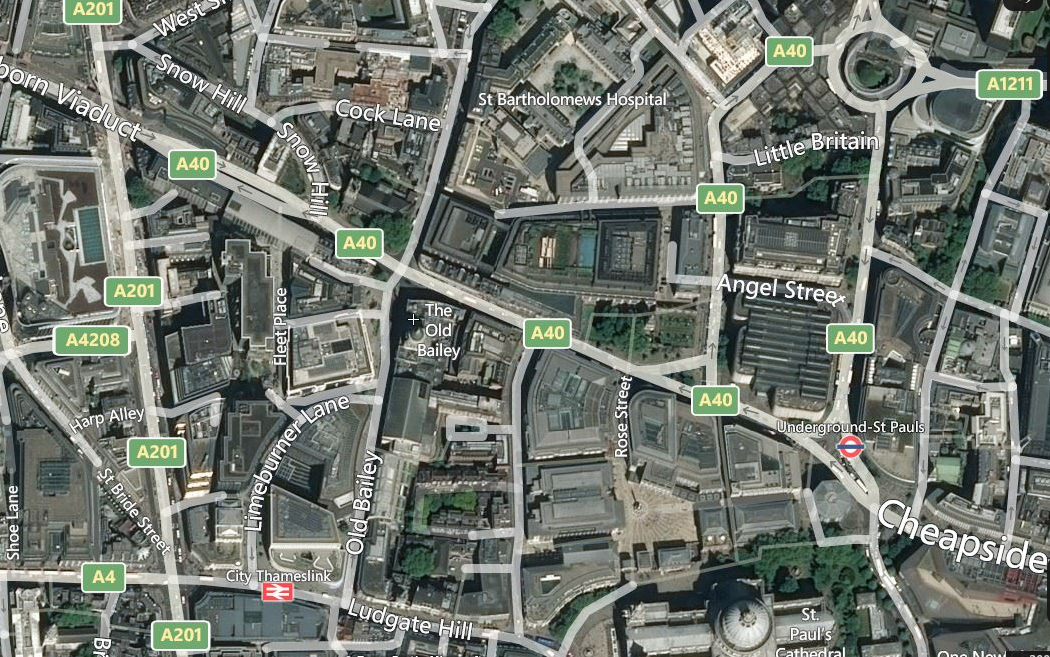 City Thameslink, Farringdon, St Paul's. Stay tuned for information about mutualized/organized trips to the hearing…
Actors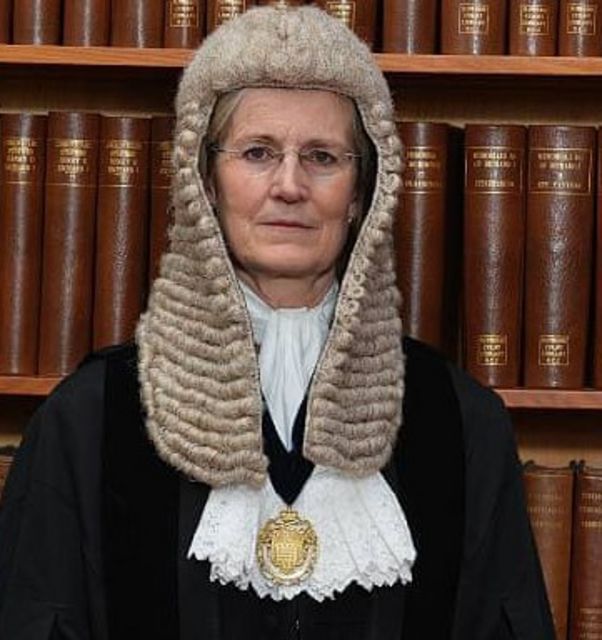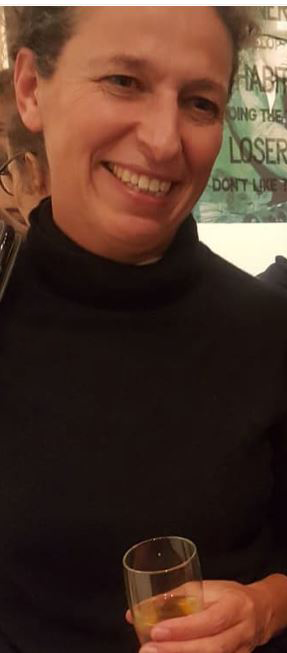 Magistrate : Vanessa Baraitser (doing the front job for her boss Emma Arbuthnot)
Defence team: Solicitor Gareth Peirce (Birnberg, Peirce & Partners); Barrister Edward Fitzgerald QC, Doughty Street Chambers, Barrister Mark Summers QC, Matrix Chambers
(Source : Press Briefing)
Accusation team: James Lewis QC, …
Read/write more about the actors.
Coverage of the verdict - Monday 4th January 2021
Threadreader:
Assange Defense Kevin Gosztola Rebecca Vincent Mohamed Elmaazi James Doleman Richard Medhurst Stefania Maurizi Bill Goodwin Stefan Simanowitz Mary Kostakidis
Read:
Watch:
Live Outside the Court
Media Coverage

Livestreams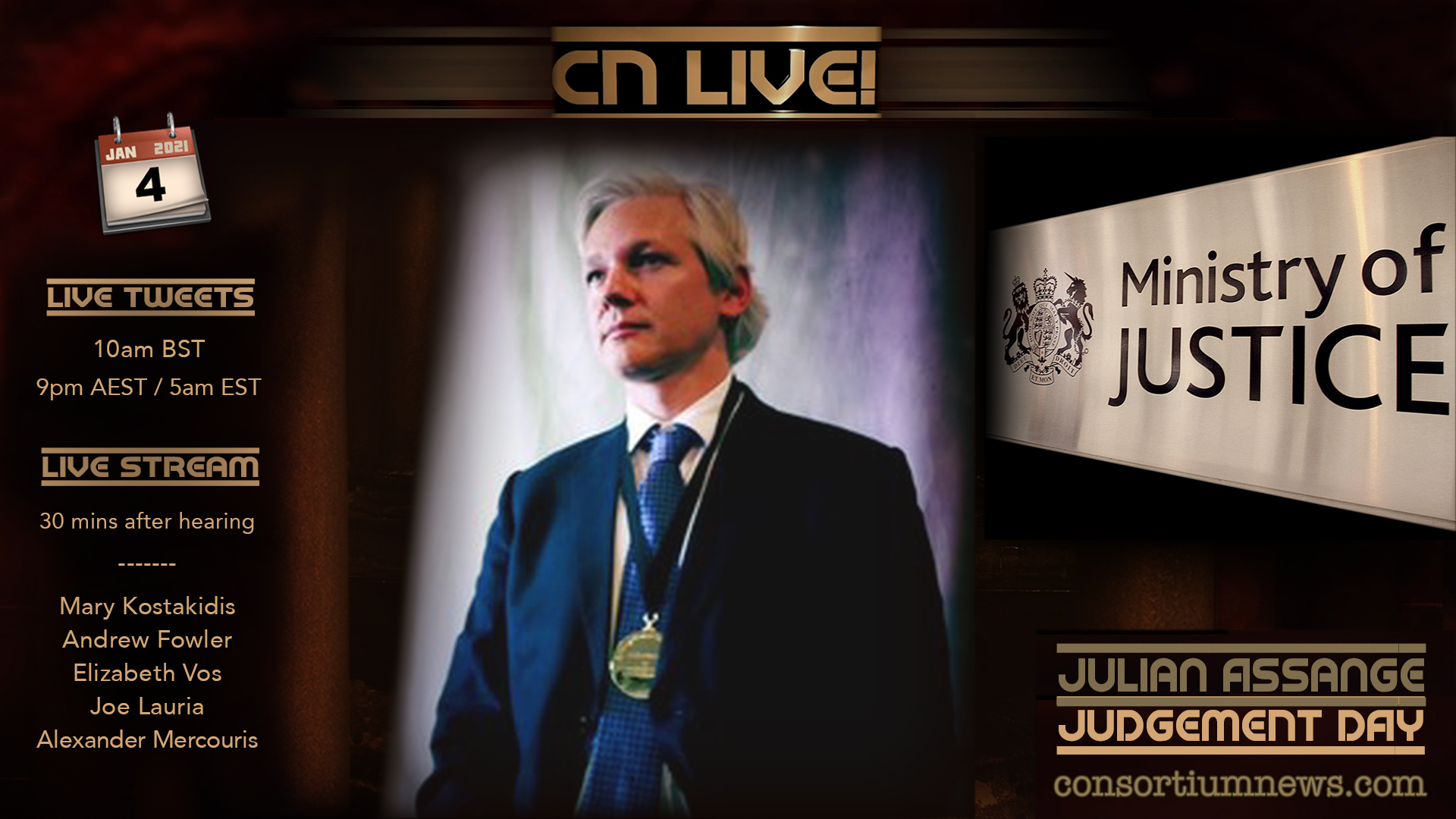 Replay: CN LIVE! 'Judgement Day'- Consortium News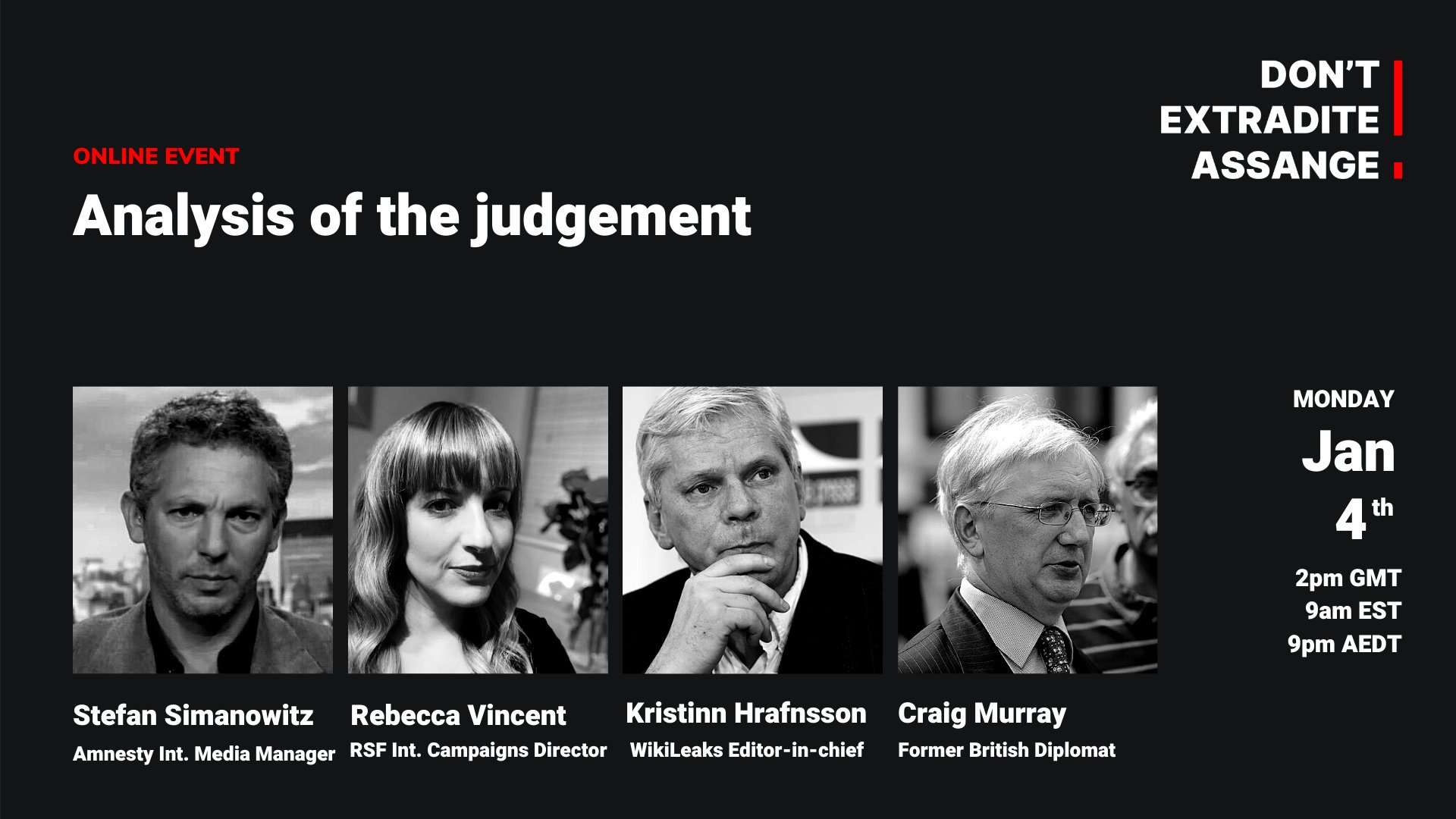 Replay: Analysis of the #AssangeCase judgement - Don't Extradite Assange (DEA) Campaign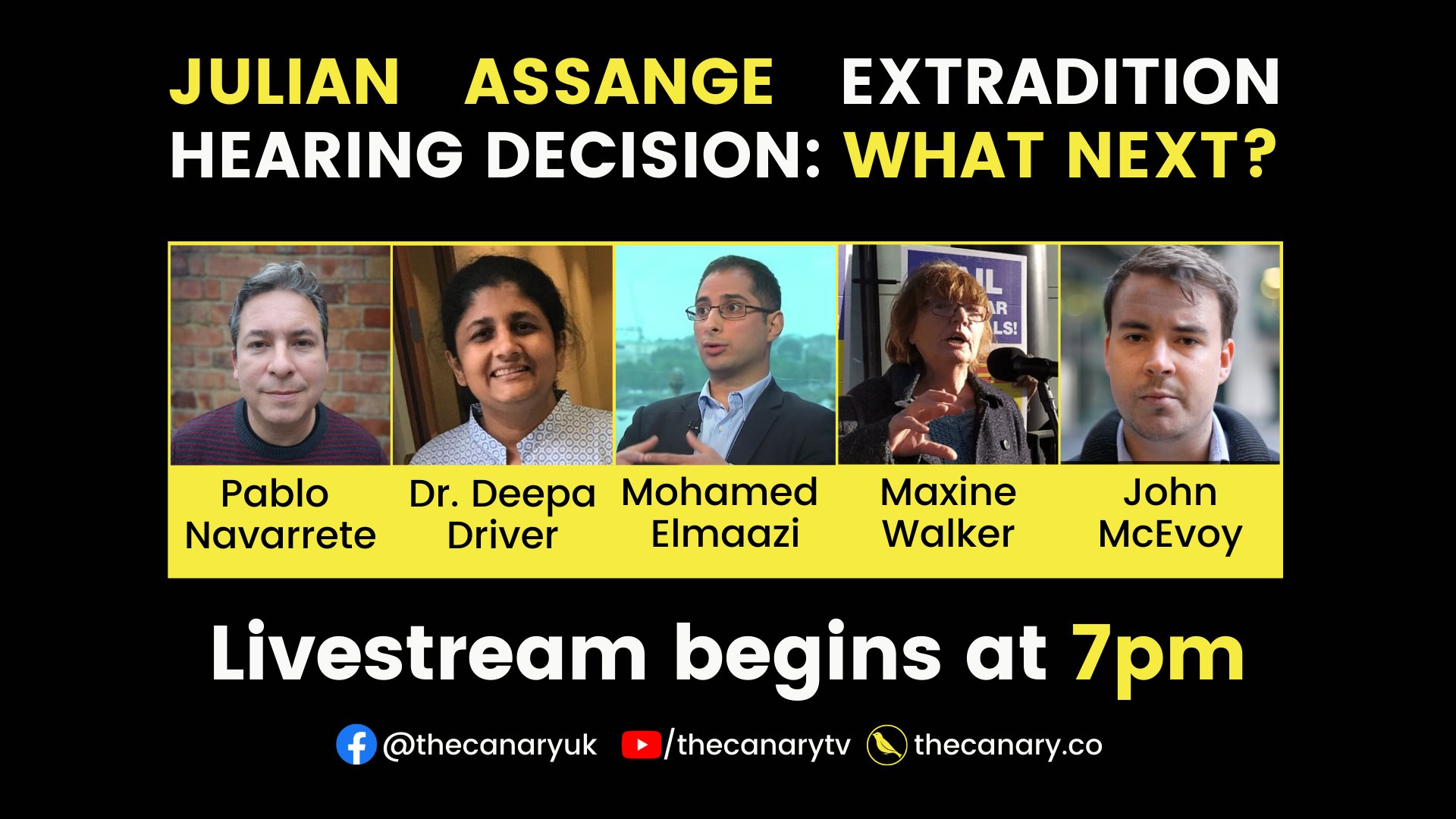 Replay: Julian Assange Extradition Hearing Decision: What Next? - The Canary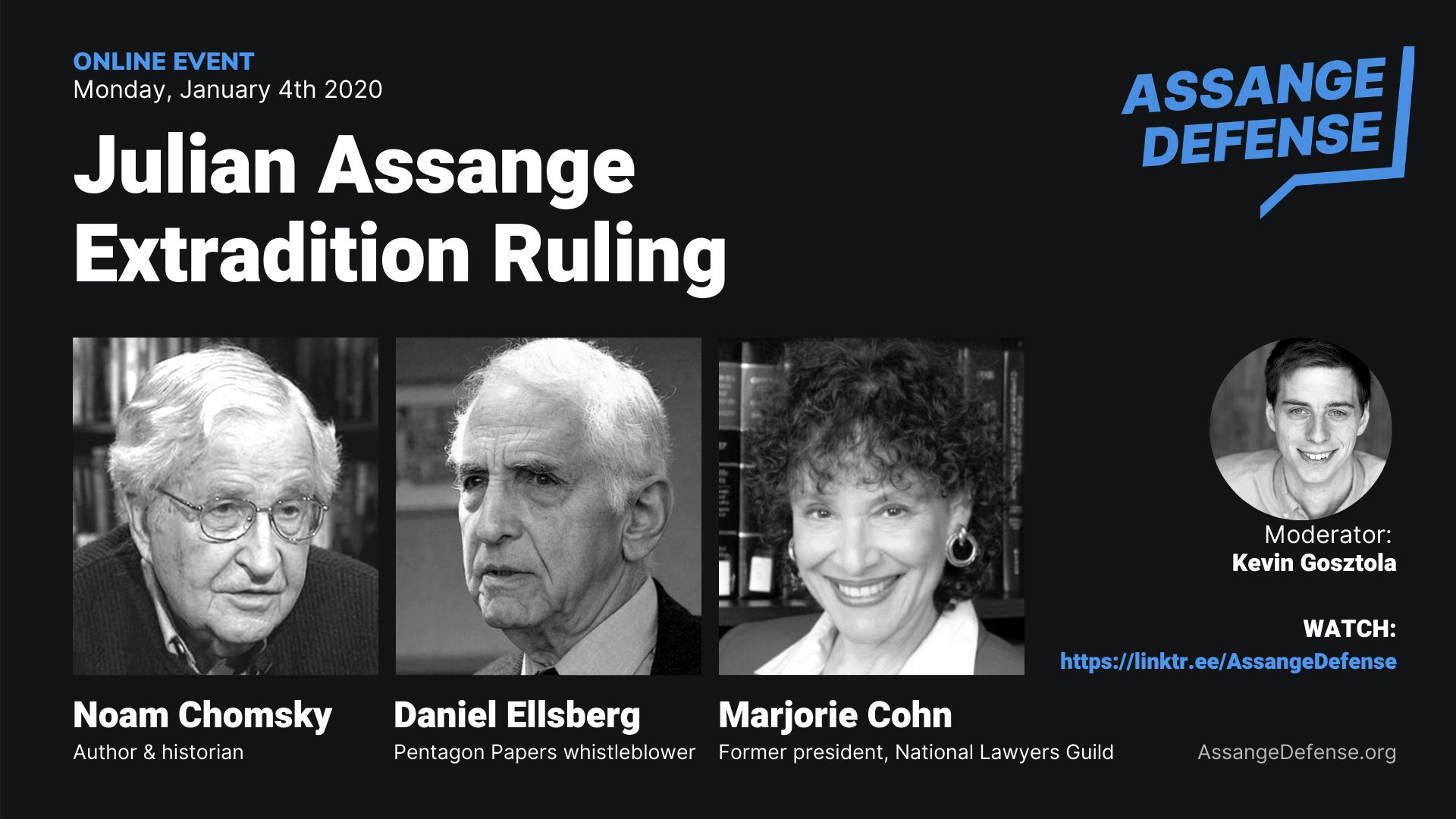 Replay: #AssangeCase Online Press Conference - Assange Defense
Reporting from the Old Bailey