Write to Julian in Belmarsh
From https://writejulian.com/ :
Mr Julian Assange
Prisoner #: A9379AY
DOB: 3/7/71
HMP Belmarsh
Western Way
London SE28 0EB
UK
*You must include his prisoner number (#A9379AY) and date of birth (03/07/71) on the envelope!*
*You must include your full name AND address on the back of the envelope!*

Envelopes without his prisoner number, DOB and/or your full details will not be delivered.

If you wish for him to reply, include a blank piece of paper with a self-addressed envelope. It must be pre-stamped (UK Stamps only). Do not send loose stamps as they will be rejected. Include 2 UK first class stamps for international. You can buy UK stamps here: https://shop.royalmail.com/postage-and-packaging/first-and-second-class-stamps/6-x-1st-class-stamp-book-change-of-font
Letters sent to and from the prison are checked by prison staff. Do not send letters containing sensitive material, instead please contact Mr. Assange's lawyers for any sensitive matters. You may send paper items only, such as letters, photos and drawings. Please do not attempt to send other items. Postcards are not allowed.
If you receive a reply, you may choose to share it with #WriteJulian unless he has marked the letter as PRIVATE. Please DO NOT publish any letters that he has marked private. Though Belmarsh security checks incoming and outgoing mail they absolutely cannot share or publish his mail, so please be considerate of his wishes.
A special action suggested by his mother Christine Assange is to send him copies of letters written on his behalf to politicians, media, organizations, vips: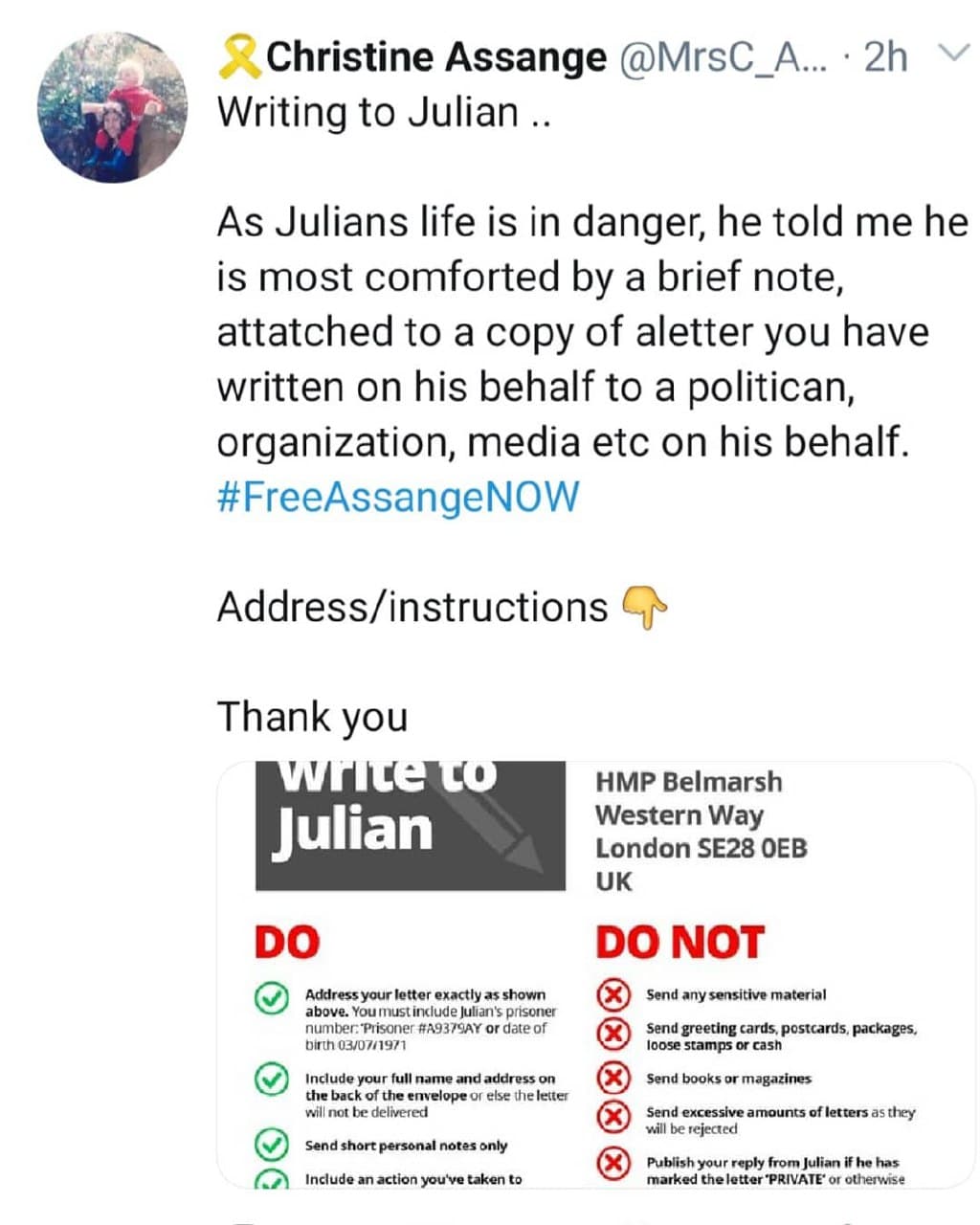 ---
Some replies