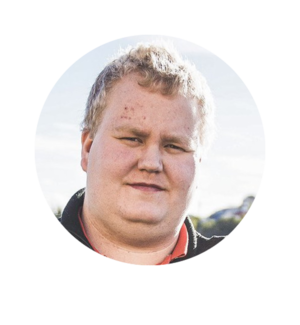 Sigurdur Ingi 'Siggi' Thordarson
The US Justice Department had decided that it therefore needed a new tack and to discover some "crimes" by Assange that seemed less noble than the Manning revelations.

To achieve this, the FBI turned to an informant in Iceland, Sigi Thordarson, who was willing to testify that Assange had been involved with him in, inter alia, hacking private banking information and tracking Icelandic police vehicles. This was of course much easier to portray as crime, as opposed to journalism, so the second superseding indictment was produced based on Thordarson's story, which was elaborated with Thordarson by an FBI team.

The difficulty was that Thordarson was hardly a reliable witness. He had already been convicted in Iceland for stealing approximately $50,000 from Wikileaks and with impersonating Julian Assange online, not to mention the inconvenient fact he is a registered sex offender for online activities with under-age boys. The FBI team was in fact expelled from Iceland by the Icelandic government, who viewed what the FBI was doing with Thordarson as wholly illegitimate.
"The court documents refer to Mr Thordarson simply as "Teenager" (a reference to his youthful appearance rather than true age, he is 28 years old) and Iceland as "NATO Country 1" but make no real effort to hide the identity of either. They purport to show that Assange instructed Thordarson to commit computer intrusions or hacking in Iceland.

The aim of this addition to the indictment was apparently to shore up and support the conspiracy charge against Assange in relation to his interactions with Chelsea Manning. Those occurred around the same time he resided in Iceland and the authors of the indictment felt they could strengthen their case by alleging he was involved in illegal activity there as well. This activity was said to include attempts to hack into the computers of members of parliament and record their conversations.

In fact, Thordarson now admits to Stundin that Assange never asked him to hack or access phone recordings of MPs. His new claim is that he had in fact received some files from a third party who claimed to have recorded MPs and had offered to share them with Assange without having any idea what they actually contained. He claims he never checked the contents of the files or even if they contained audio recordings as his third party source suggested. He further admits the claim, that Assange had instructed or asked him to access computers in order to find any such recordings, is false."
"The chat logs were gathered by Thordarson himself and give a comprehensive picture of his communications whilst he was volunteering for Wikileaks in 2010 and 11. It entails his talks with WikiLeaks staff as well as unauthorized communications with members of international hacking groups that he got into contact with via his role as a moderator on an open IRC WikiLeaks forum, which is a form of live online chat. There is no indication WikiLeaks staff had any knowledge of Thordarson's contacts with aforementioned hacking groups, indeed the logs show his clear deception.

The communications there show a pattern where Thordarson is constantly inflating his position within WikiLeaks, describing himself as chief of staff, head of communications, No 2 in the organization or responsible for recruits. "
Sources