Letter templates
Not sure what to write? Here is some inspiration.


Letter 1 : UK MPs , or general letter

Dear _ _ MP,
I write to you to raise concerns about Julian Assange who is currently held in Belmarsh prison awaiting the conclusion of an extradition hearing. I am very concerned that he should be released before the coronavirus spreads through the prison population. As a vulnerable prisoner whose health is already in jeopardy further isolation would be damaging in itself, let alone the threat that the virus breaks out inside the prison. The increased health risk means he should be released immediately. There is a high possibility that the prisons will cancel all social visits, as prisons in Northern Ireland have already done, which means it will be impossible for even his family and friends to visit. The UK prison service has already begun releasing some low risk prisoners. Releasing Julian Assange and other vulnerable prisoners would reduce the risk of outbreak of the virus inside the prison. The Prison Officers Association and the Prison Advisory Service and the Shadow Justice Minister, Richard Burgon MP, have already called on the prison service to release low risk prisoners. Julian Assange is not in prison for committing any crime and is no threat whatsoever to the public. Please add your voice to those calling for his immediate release.
Yours sincerely,
---
---
Letter 2 : Chief Magistrate Emma Arbuthnot and Judge Vanessa Baraitser

Attention : Chief Magistrate Emma Arbuthnot, Judge Vanessa Baraitser

To: westminster.mc@hmcts.gsi.gov.uk
Cc: westminster.ij@justice.gov.uk

Subject: Bail and immediate release for Mr Julian Assange


Her Honour Chief Magistrate Emma Arbuthnot, Her Honour Judge Vanessa Baraitser,
All detainees must be protected from preventable danger and extreme COVID-19 Risk.
Mr Julian Assange suffers from depression and has a chronic lung condition. Mr Assange is hence in extreme danger of infection and death. He is weakened both physically, and mentally, I refer you to letters of demand by 193 Doctor signatories that confirm the vulnerable condition of Mr Assange.
Mr Assange is entitled to the presumption of innocence while he is detained.
His health and well being must be ensured to enable fair defense of his innocence in the upcoming trial.
As a non violent detainee, Mr Julian Assange, currently detained in HMP Belmarsh, poses no imminent threat.
I urge you to consider the request of bail and immediately release Mr Julian Assange from HMP Belmarsh.
Thank you for your attention,
Yours faithfully,
---
---
Letter 3 : UK PM Boris Johnson (from International Jurists)

(found at: https://medium.com/@deepadriver/international-jurists-letter-82c90061994c)

Rt. Hon. Boris Johnson MP
10, Downing Street
City of Westminster
London
SW1A 2AA

Subject: International Jurists' Letter in Defence of Julian Assange


22 February 2020

Dear Mr Johnson,
As international jurists, with an acute awareness of the responsibilities that our profession demands of us, we call on the British authorities to refuse the request for the extradition of Mr. Julian Assange to the United States. We also call for his immediate release.
The treatment of Mr. Assange, the circumstances surrounding his continued detention in Belmarsh maximum security prison, and the circumstances surrounding British attempts to comply with the US request for his extradition, highlight:
1. the involvement of the United Kingdom in long-term, severe, psychological ill-treatment of Mr. Assange (ECHR Article 3)
2. the disregard shown by the British authorities towards their duties and responsibilities under international law
3. the disregard by the British authorities of British law, including Mr. Assange's right to a fair trial (ECHR Article 6), for protection of his private life (ECHR Article 8) and his right to freedom of speech (ECHR Article 10)
4. the sweeping, extraordinary, extra-territorial claims now being made by the United States, who are seeking to prosecute in the US and under US laws, non-US citizens for conduct outside the United States (including in jurisdictions such as the United Kingdom where that conduct is lawful).
1. UK involvement in the psychological torture and mistreatment of Mr. Assange (infringement of ECHR Article 3):
International human rights experts , healthcare professionals and the UN Special Rapporteur on Torture, Prof. Nils Melzer, have all found that Mr. Assange has been subjected to arbitrary confinement, and cruel, inhuman and degrading treatment amounting to torture. They note that the torture poses grave risks of significant physical, psychological, neuropsychological harm, with life-changing and potentially fatal consequences for Mr. Assange. Prof. Melzer has found the British state responsible for Mr. Assange's torture "through perpetration, or through attempt, complicity or other forms of participation". This involvement of the British authorities in the psychological torture and mistreatment of Mr. Assange violates his rights under ECHR Article 3 and takes various forms:
a. Interference in the Swedish investigations, and inordinate protraction of Mr. Assange's detention:
Mr. Assange originally sought asylum in the Ecuadorean embassy — as was his right — because he was concerned that if extradited to Sweden where he was being investigated in relation to (now-abandoned) sexual assault allegations, he might be subjected to onward rendition from Sweden to the United States (or another state with a US interrogation facility / black site), for which there were precedents. Whilst physically present in the embassy, Mr. Assange offered to make himself available for interview by the Swedish authorities, whether in person or by video link, so as to facilitate the investigation of the sexual assault allegations. Mr. Assange also offered to go to Sweden, subject to an assurance from the Swedish authorities that he would not be rendered to the United States. Information obtained under the Freedom of Information Act reveals that the Swedish authorities may have been minded to accept Mr. Assange's offers of interviews in the embassy or by video link. However, they were dissuaded from doing so by the British authorities. The Crown Prosecution Service repeatedly urged Swedish authorities not to interview Mr. Assange in the United Kingdom and suggested they insist instead on his extradition to Sweden. This compelled Mr. Assange to remain in the embassy for many years, despite the injury this was known to be causing to his health. Even the Stockholm Chief District Prosecutor has described the Swedish extradition effort, now known to have been urged on the Swedish authorities by the United Kingdom's Crown Prosecution Service (CPS), as: "… unreasonable and unprofessional, as well as unfair and disproportionate." Requests under the Freedom of Information Act show that the CPS specifically and repeatedly urged the Swedish authorities to keep their investigation of Mr. Assange ongoing. In such missives, the CPS made extraordinary comments such as, "….do not think this case is being treated as just another extradition" and "Don't you dare get cold feet!!!", discouraging the Swedish authorities from concluding their investigations. Mr. Assange was therefore unduly confined to the Ecuadorean embassy, on the urging of the UK authorities, when in fact, there were no charges to answer in Sweden. The United Kingdom therefore shares responsibility for the severe injury to health that Mr. Assange suffered as a consequence of this protracted and unnecessary stay at the embassy, and the consequent damage which the British authorities, in part caused, through their arbitrary, disproportionate and illegal treatment of Mr. Assange.
b. Denial of Medical Treatment whilst in the embassy: Mr. Assange had to endure debilitating and painful medical conditions in the embassy. These conditions included an excruciating tooth abscess and a serious injury to his shoulder, both of which remained untreated for several years. Mr. Assange was denied permission by the Foreign and Commonwealth Office to leave the Embassy to receive hospital treatment. This was despite a request from the Ecuadorean embassy to the British government for such access to be provided on medical grounds.
c. Conditions of Mr. Assange's detention since his forced removal from the embassy and subsequent denial of proper medical treatment Disregarding the well-established principle of 'proportionality', Mr. Assange, an award-winning journalist with complex healthcare needs (some of which are the result of the mistreatment he endured whilst forced to remain in the embassy), was given a custodial sentence of 50 weeks in the maximum-security Belmarsh prison for the offence of skipping bail. This sentence was not only harsh and disproportionate; in the circumstances, given Ecuador's granting of asylum and the findings of the UN Working Group on Arbitrary Detention (see above), it was vindictive.
The conditions in which Mr. Assange continues to be detained whilst on remand also appear harsh, disproportionate and vindictive. Mr. Assange poses no threat to the public. Given the significant breakdown in his health he is not a flight risk. Yet the court, even before his lawyers had initiated any application for bail in the extradition proceedings, said that he would be remanded in custody because of his behaviour "in these proceedings". Yet, at the time there had been no proceedings in the extradition case. He has been kept in custody in a maximum-security prison which the UN special rapporteur referred to, as "oppressive conditions of isolation involving at least 22 hours per day in a single occupancy cell… [He] is not allowed to socialize with other inmates and, when circulating in the prison, corridors are cleared and all other inmates locked in their cells. Contrary to assurances …..by the prison administration….., and contrary to the general population of the prison, Mr. Assange reportedly still is not allowed to work or to go to the gym, where he could socialize with other inmates." Visitors to Mr. Assange have reported that he was wearing prison uniform despite only being a remand prisoner, that he is denied civilian clothes, and that his access to his prescription glasses was "inexplicably delayed" for months, after they were sent to him at Belmarsh . Coming after 9 years of arbitrary and illegal detention in the embassy, the harsh and disproportionate conditions in which Mr. Assange is being held have unsurprisingly caused further grave injury to his health. An international group of doctors has expressed serious concern for his present and future safety and wellbeing. They too have called for him to urgently receive appropriate treatment there. British authorities bear responsibility for the ongoing situation.
2. Disregard for international law and infringement of Mr. Assange's rights as a refugee:
Sweden, the United Kingdom and Ecuador are parties to the Convention relating to the Status of Refugees, which places on States an obligation to respect non-refoulement with no reservations. Not only have Mr. Assange's rights as a refugee been ignored, U.K. authorities have helped undermine Mr. Assange's rights as an Ecuadorean citizen to protections under Ecuadorean law such as a protection against extradition. In addition, the U.K. authorities have not paid due regard to the clear findings of the UN Working Group on Arbitrary Detention on the arbitrary detention of Mr. Assange. Importantly, the U.K. authorities have repeatedly ignored their duty to investigate the serious concerns raised by the UN Special Rapporteur Prof Nils Melzer in relation to the prohibition against torture and other cruel, inhuman or degrading treatment or punishment.
3. Disregard for Mr. Assange's right to a fair trial (ECHR Article 6), and for protection of his private life (ECHR Article 8)
Mr. Assange has suffered sustained infringement of his private life, whilst the conduct of the legal proceedings which have been brought against him, has been riddled with procedural irregularities that call into question the possibility of a fair trial.
a) Intrusive Surveillance: It is now known that Mr. Assange and his visitors, including his lawyers, were put under extraordinary levels of covert surveillance within the Ecuadorean embassy at the behest of the US. Evidence has now emerged to prove that this surveillance breached not just the diplomatic sovereignty of the Ecuadorean embassy, but also Mr. Assange's human rights in respect of privacy, and attorney-client privilege. It also intensified his torture. Prof. Melzer notes, "relentless surveillance for 24 hours a day is often used deliberately in psychological torture in order to drive victims into paranoia, except that the victim's perception actually corresponds to reality".
b) Destruction of Evidence: When the actions of the British and Swedish authorities came to be scrutinised via Freedom of Information Act requests and through other channels, it emerged that evidentiary trails — including communications with the US Federal Bureau of Investigations (FBI) — have been destroyed by Swedish and British prosecutors, with no plausible explanation provided.
c) Political interference: Senior UK governmental ministers have boasted about using their diplomatic skills and clout to broker a deal with Ecuador's new government to rescind Mr. Assange's asylum so that he could be taken into custody.
d) Inability to Prepare Defence: Mr. Assange has been subjected to material and repeated disruptions both with respect to his access to the documents he needs in order to prepare his case and with respect to the facilities he needs in order to consult with his lawyers so that he can prepare his defence.
e) Concerns about impartiality: Officials responsible for key decisions about various aspects of Mr. Assange's case have made inappropriate comments about him, suggesting high levels of prejudice and bias. For example, Mr. Assange has been called a 'narcissist' by a judge during a court hearing. There are also concerns that the senior judge who dealt with his previous case appears to have had serious, multiple conflicts of interest. All this has led to doubts about whether an attempt to deny Mr Assange a fair investigation of his case may be underway.
f) Failure to respond to UN and other experts: UN officials have stated publicly that Mr. Assange has been detained illegally and arbitrarily and has been tortured. The British authorities have an obligation to engage with and to investigate these criticisms. Instead their responses to UN officials have been belated, improper and inadequate. Moreover, those responsible for these inadequate replies are those — in the British government and the criminal justice system — who are specifically responsible for ensuring that justice is served.
4. US extra-territorial overreach and the dangers to Mr. Assange from extradition to the United States
The extradition request made by the US authorities in itself gives rise to serious concerns. Mr. Assange is an Australian citizen and a journalist based in the United Kingdom. There is no suggestion that he has ever broken any British law whilst undertaking his work as a journalist in the United Kingdom.
Mr. Assange, however, faces an extradition request from the United States in which the US authorities claim that he has committed offences including under the US Espionage Act, which applies exclusively to the jurisdiction of the United States. The charges the US authorities are seeking to bring against Mr. Assange are seen by many journalists around the world as an open assault against investigative journalism as it is practiced. These demands by the US authorities for the extradition to the United States of an Australian journalist based in the United Kingdom must inevitably give rise to serious concerns about the extraordinary extra-territorial demands which the US authorities are now making. The consequences if such demands are accepted by the UK to facilitate the extradition of a multi award-winning journalist and publisher are a matter of great concern.
There must also be serious concerns, whether in the context of such demands, Mr. Assange has any realistic prospect of a fair trial if he is extradited to the United States. This is especially concerning given the disproportionate, cruel and inhuman punishment with which Mr. Assange is being threatened if he is convicted in the United States. His alleged accomplice and whistleblower Chelsea Manning, after already serving a lengthy prison term in often inhumane conditions, is now being held in indefinite detention in order to coerce her into giving evidence against Mr. Assange. Mr. Assange faces a possible prison sentence of 175 years. Extraditing Mr. Assange to the United States would in such circumstances not only be inhumane and wrong; it would set a disastrous precedent, legitimising the US authorities' practice of extra-territorial overreach, whilst infringing Mr. Assange's human rights in the most fundamental way, putting his very life at risk. It would also set the scene for a trial whose eventual outcome might set extraordinarily dangerous precedents which could endanger the entire practice of journalism.
Conclusion
Under the rule of law, a State is required to afford all defendants their human rights and to honour international law whether "deriving from treaty or from international custom and practice".
Such considerations are not intended to be optional or dependent on the nature of the crime. Nor are they justified by the nature of the circumstances; nor are they implemented at the discretion of the judge or the State.
As Lord Bingham eloquently reminds jurists in his eponymous 2006 lecture on the subject, the constitutional principle of the 'Rule of Law' is statutory and paramount.
Yet time and time again in Mr. Assange's case, we have seen the law ignored, manipulated or summarily rejected.
We call on the British legal community to reclaim professional standards, to condemn the torture of Mr. Assange and to engage in urgent actions to secure his immediate and safe release.
Signed by:
Alberto Alemanno, Professeur de Droit, HEC et NYU, France
Ahmed Aydeed, Director of Public Law, Duncan Lewis Solicitors, UK
Greg Barns, Barrister & former National President of the Australian Lawyers Alliance, Australia
Professor Eirik Bjorge, University of Bristol Law School, UK
Heidi Boghosian, Esq., Executive Director, A.J. Muste Institute, Inc., USA
William Bourdon, Avocat au Barreau de Paris, France
Vincent Brengarth, Avocat au Barreau de Paris, France
Dr Alysia Brooks, Transnational Strategic Litigation Specialist, Member — LawAid International
Nick Brown, Barrister, Doughty Street Chambers, UK
Julian Burnside AO, QC, Australia
Timothy A. Canova, Professor of Law and Public Finance, Nova Southeastern University, USA
Heather Ellis Cucolo, Distinguished Adjunct Professor of Law, New York Law School, USA
Marie-Anne Cohendet, Professeure de Droit Public, L'Ecole de Droit de la Sorbonne, France
Marjorie Cohn, Professor Emerita, Thomas Jefferson School of Law, USA
Fabiano Cangelosi, Barrister, Tasmanian President of the Australian Lawyers Alliance, Australia
Olga Margrét Cilia, Lawyer and Deputy MP, The Pirate Party of Iceland
Jacques Chevallier, Professeur honoraire à l'université de Paris 2 Panthéon-Assas, France
Dominique Custos, Professeure Droits Fondamentaux, l'Université de Caen, France
Anne Millet-Devalle, Professeure de Droit Public à l'Université de la Côte d'Azur, France
Marie-Joëlle Fichrot-Redor, Prof. honoraire, Droits Fondamentaux, Université de Caen, France
Géraldine Giraudeau, Agrégée des facultés de droit, Professeure de droit public à l'UPVD, France
Ms. Elísabet Guðbjörnsdóttir, Attorney at Law at Consilia ehf., Iceland
Marit Halvorsen, Professor of Jurisprudence, University of Oslo, Norway
Dr Thomas Harrè, Barrister, New Zealand
Leonard Hartnett, Barrister, Gorman Chambers, Australia
Charles Hector Fernandez, Advocate and Solicitor, Messrs Charles Hector, Malaysia
Dr Joseph M Fernandez, Adjunct Associate Professor, Curtin University, Australia
Fredrik Heffermehl, Lawyer and author (Nobel Peace Prize Watch, IALANA), Norway
Arlette Heymann-Doat, Prof. émérite de Droit Public, Spécialiste des libertés fondamentales, France
Nancy Hollander, Lawyer, USA
Toufique Hossain, Director of Public Law, Duncan Lewis Solicitors, UK
Colin Hutchinson, Barrister, Garden Court Chambers, UK
Eva Joly, Lawyer, Paris Bar & former judge, Paris Court, France
Ögmundur Jónasson, Former Minister of Justice, Iceland
Mamadou Konate, Avocat au Barreau de Bamako et Paris, Ancien Garde des Sceaux, France
Niki Konstantinidis, Barrister and Solicitor, Australia and UK
James Lafferty, Executive Director Emeritus, National Lawyers Guild, Los Angeles, USA
Jean-Manuel Larralde, Professeur de droit public à l'Université de Caen, France
David Lewis, Professor of Employment Law, Middlesex University, UK
Lisa Longstaff, Women Against Rape, UK
Nina Lopez, Legal Action for Women, UK
Carl J Mayer, Esq., Lawyer and consumer advocate, Mayer Law Group Llc, USA
Rajiv Menon QC, Barrister, Garden Court Chambers, UK
Adriana Navarro, Lawyer and Notary Public, Navarro & Associates, Australia
Thomas Perroud, Professeur de Droit Public, Université Panthéon-Assas, France
Diane Roman, Professeure à l'école de Droit de la Sorbonne, Université de Paris 1, Spécialiste de libertés fondamentales, France
Phillip Segal, Barrister, Samuel Griffith Chambers, Australia
Catherine Teitgen-Colly, Professeure émérite de l'Université de Paris 1, Droit public, Panthéon-Sorbonne, France
Philippe Texier, Magistrat, Ancien Conseiller à la Cour de Cassation, France
Robert Tibbo, Barrister, Eastern Chambers, Hong Kong
Craig Tuck, Human rights Lawyer, Director of LawAid International, New Zealand
Michael Tuck, Barrister, New Zealand
Mara Verheyden-Hilliard, Esq., Human rights Lawyer; President of the Partnership for Civil Justice Fund, USA
Richard J. Whitney, Attorney, USA
cc:
Jeremy Corbyn, MP
Priti Patel, MP
Dianne Abbott, MP
Suella Braverman, MP
Shami Chakrabarti
Robert Buckland QC, MP
Richard Burgon, MP
NOTE:
If you are a retired or serving judge, lawyer, legal academic, or a representative of an organisation engaging on behalf of civil society with the justice system, AND if you would like to sign this letter, please contact deepadriver@protonmail.com with email heading Signatory: International Jurists' Letter in the title of your email. If you are having difficulties with contacting us, you can also reach the organiser via Twitter @deepa_driver.
---
---
Letter 4 : Lord Buckland (UK Secretary of State for Justice) and Suella Braveman (UK Attorney General)

(found at: https://katyastiletti.wixsite.com/mybookbunker/letter-to-buckland)

To: robert.buckland.mp@parliament.uk
CC: ago.privateoffice@attorneygeneral.gov.uk

Subject: Torture, Crimes against humanity, Julian Assange


Dear Lord Buckland and Ms Braverman,
I am writing to you today, to request urgent action by you, especially with regard to the crimes against humanity perpetrated against Julian Assange (outlined below). I am writing as a matter of urgency, following today's denial of Julian Assange's bail application.
Campaigners slammed this dangerous and cruel judgement to expose Julian Assange to the coronavirus[1]:
"'This is a dangerous and cruel decision', said WikiLeaks Ambassador Joseph Farrell. 'Coronavirus will spread in Belmarsh. With 100 Belmarsh staff off ill Julian is already at risk. Visits have been cancelled. He will have no access to friends and family and his time with his legal team will be reduced further. How is anyone supposed to prepare a defence in such conditions?' Kristinn Hrafnsson, editor in chief of WikiLeaks, added, 'to expose another human being to serious illness, and to the threat of losing their life, is grotesque and quite unnecessary. This is not justice, it is a barbaric decision'. Julian Assange is not imprisoned for any crime and is at risk of infection. Like other prisoners who pose no risk to the public he should be released to avoid the spread of the coronavirus, his legal team argued. Belmarsh is a remand prison with 300 new intakes every month."
Today's judgment compounds a series of disasters in this catastrophic case that will stain the UK forever.
In a recent statement of "The International Bar Association's Human Rights Institute" (IBAHRI) a retired Australian High Court judge, the Hon Michael Kirby, commented:
"The IBAHRI is concerned that the mistreatment of Julian Assange constitutes breaches of his right to a fair trial and protections enshrined in the United Nations Convention against Torture and Other Cruel, Inhuman or Degrading Treatment or Punishment, to which the UK is party. It is deeply shocking that as a mature democracy in which the rule of law and the rights of individuals are preserved, the UK Government has been silent and has taken no action to terminate such gross and disproportionate conduct by Crown officials. As well, we are surprised that the presiding judge has reportedly said and done nothing to rebuke the officials and their superiors for such conduct in the case of an accused whose offence is not one of personal violence. Many countries in the world look to Britain as an example in such matters. On this occasion, the example is shocking and excessive. It is reminiscent of the Abu Grahib Prison Scandal which can happen when prison officials are not trained in the basic human rights of detainees and the Nelson Mandela Rules."
This criticism by a highly esteemed former judge of the highest court in Australia, shames, unequivocally, a derelict UK government that has, thus far, acquiesced to this torture.
Torture
Today, Mr Martin Silk, London Correspondent for Australian Associated Press (AAP) was present at the court. In one of his tweets he quoted Ms Vanessa Baraitser: "Full quote. (…) As matters stand today this global pandemic does not, of itself, yet provide grounds for Mr Assange's release." Ms Baraitser made (or rather, parroted her decision[2]), dismissing irrefutable evidence of Assange's chronic lung condition and overall severe health problems, which place him at a higher risk of contracting Covid19 whilst in prison. In the words of Craig Murray[3]:
"You may recall that I myself concluded that the extraordinary and oppressive treatment of Assange, and the refusal of Baraitser to act to ameliorate it, could only be part of a deliberate policy to cause his death. I could, and can, think of no other possible explanation. If the authorities now refuse to allow him out on bail during the Covid-19 outbreak, I do not see how anybody can possibly argue there is any intention other than to cause his death."
Whether Ms Baraitser is enjoying her role as direct perpetrator of this torture and crime against humanity, or 'just following orders', is irrelevant. She is torturing him, she must be stopped and she must be stopped first and foremost, by us jurists, for we are under a higher duty to never allow free reign to the Roland Freislers[4] of this world.
The prohibition against torture is absolute and, according to the UNCAT, no exceptional circumstances whatsoever, including state of emergency or war or an order from a public authority, may be invoked as a justification of torture. Today, we have ample evidence of the torture inflicted on Assange. The chief perpetrator, since 2017, is the chief magistrate, Ms Emma Arbuthnot. Despite the massive scandal surrounding her extensive conflicts of interest, Ms Arbuthnot has refused to step down; she has merely stepped aside, maintaining her position as supervising judge. Her current tool of torture is Ms Baraitser. All judges in this judicial charade (including Mr Michael Snow and Ms Deborah Taylor) have been torture tools, trampling on all rule of law, to such an extent that they have annihilated any potential defence of "lawful authority, justification or excuse".
In my view, Ms Arbuthnot should be investigated, at least for "misconduct in public office" involving failure to disclose a conflict of interest, and all judges in this case should be investigated, inter alia, for the crime of torture (UK Criminal Justice Act 1988, s.134).
In 2019, I filed a complaint against Ms Arbuthnot with the Judicial Conduct Investigations Office (JCIO). My complaint was rejected, and the Judicial Appointments and Conduct Ombudsman (JACO) found no fault on the part of the JCIO.
On 9 March 2020, I wrote back to the JACO clarifying that my JCIO complaint was not about case management, but about Emma Arbuthnot's personal conduct. I highlighted the following:
"Not only did Lady Emma Arbuthnot dissimulate her serious conflicts of interest, all evidence I provided to the JCIO shows that she flagrantly misused her judicial status—as judge and supervisory chief magistrate in the Assange case—outside of court. No fair-minded and informed observer would assess said personal conduct outside of court as proper conduct. It is clear, therefore, from the evidence provided in my JCIO complaint that Lady Emma Arbuthnot misused her judicial status outside of court for personal gain or advantage; i.e., to protect and further her own personal interests, and those of her husband and son. My complaint was therefore in line with "The Judicial Conduct (Judicial and other office holders) Rules 2014-Supplementary Guidance" published on the JCIO website (indicating the rules and regulations applied by the JCIO). "Guidance to the Rules" Rule 6: The JCIO may only consider a complaint that contains an allegation of misconduct by a judge or other office holder. Such misconduct relates to the judge's personal behaviour for example: a judge shouting or speaking in a sarcastic manner in court; or misuse of judicial status outside of court. It does not relate to decisions or judgments made by a judge in the course of court proceedings. The only way to challenge such matters is through the appellate process." Since my initial complaint, further strong evidence has come to light regarding Lady Emma Arbuthnot's personal conduct outside the court, in connection with high-level political, military and intelligence players exposed by Mr Assange and WikiLeaks. (…) Your Office decided that "it was reasonable" for the JCIO to proceed in this way. I am greatly surprised that your Office came to that conclusion; especially as it seems to place beyond the scope of criticism, a judge who (in breach of the applicable 2014 Rules & Regulations) has managed to use one of the Queen's public courts, to conduct her own personal business. As I stated in my last email: "Emma Arbuthnot failed to disclose her conflicts of interest at the relevant time (i.e., prior to the updating of the Guide to Judicial Conduct 2018) and that having successfully covered her tracks she continued, nevertheless, to preside in and over hearings as chief magistrate 'responsible for… supporting and guiding district judge colleagues'. The extent of Emma Arbuthnot's conflicts of interest was discovered only recently, through the rigorous work of investigative journalists cited in my JCIO complaint and… Commodum Ex Injuria Sua Nemo Habere Debet (a wrongdoer should not be enabled by law to take any advantage from his actions)"."
To date, the only response I have received from the JACO regarding the above communication is the following automated response: "Thank you for your email. Please note if you have sent your email to a large number of recipients we will not send you a response unless your email specifically refers to a matter which is within the Ombudsman's remit for consideration."
Clearly, there is nothing to be gained by actions through this system set up in respect of complaints involving judges.
Furthermore, all appeals made to the UK government, including those made by the UN Special Rapporteur, Nils Melzer, by the Council of Europe, The International Bar Association's Human Rights Institute (IBAHRI) and others, have been met with unparalleled disdain and contempt.
Judges and other jurists, as well as civil society worldwide, are trembling with indignation at this gross and shameful injustice.
​ Crimes against humanity
The Rome Statute Explanatory Memorandum states that crimes against humanity are particularly odious offenses in that they constitute a serious attack on human dignity or grave humiliation or a degradation of one or more human beings. They are not isolated or sporadic events, but are part either of a government policy (although the perpetrators need not identify themselves with this policy) or of a wide practice of atrocities tolerated or condoned by a government or a de facto authority. However, murder, extermination, torture, rape, political, racial, or religious persecution and other inhumane acts reach the threshold of crimes against humanity only if they are part of a widespread or systematic practice. Isolated inhumane acts of this nature may constitute grave infringements of human rights, or depending on the circumstances, war crimes, but may fall short of meriting the stigma attaching to the category of crimes under discussion. On the other hand, an individual may be guilty of crimes against humanity even if he perpetrates one or two of the offences mentioned above, or engages in one such offense against only a few civilians, provided those offenses are part of a consistent pattern of misbehaviour by a number of persons linked to that offender (for example, because they engage in armed action on the same side or because they are parties to a common plan or for any similar reason.) Consequently when one or more individuals are not accused of planning or carrying out a policy of inhumanity, but simply of perpetrating specific atrocities or vicious acts, in order to determine whether the necessary threshold is met one should use the following test: one ought to look at these atrocities or acts in their context and verify whether they may be regarded as part of an overall policy or a consistent pattern of an inhumanity, or whether they instead constitute isolated or sporadic acts of cruelty and wickedness.
Context: wide practice of atrocities tolerated or condoned by a government against journalists, publishers, whistleblowers, victims of war crimes.
It is clear that what's at stake in this extradition case is not only freedom of the press but also freedom of all expression—and hence, all freedom! If Mr Assange is extradited that will mark the end of all journalism, all free speech, all free expression. If Mr Assange is extradited, our freedom will go with him. And without freedom of speech, what "law" will be left that we can speak about? Without freedom of expression, what thought will be able to thrive? We might as well rip up the Universal Declaration on Human Rights (UDHR) and the International Covenant on Civil and Political Rights (ICCPR) and anything else that might remind us of Article 19. All individuals and entities counteracting official government narratives on the ongoing 19-year "War on Terror" by the "Coalition of the Killing" (i.e., by the USA, UK, Australia et al.) will be at risk!
Thus, applying the above Rome Statute test, this "War on Terror" is an important element of the context. US-Coalition State officials are the perpetrators of the "wide practice of atrocities"; they are also industriously active in the cover-up. Recently, Secretary Pompeo even threatened members of the International Criminal Court (ICC) for daring to express their intention to investigate the war crimes that we all know occurred. And we know they occurred because of publications made by WikiLeaks[5] (republished by mainstream media, such as the New York Times, the Washington Post, The Guardian, etc.).
Are the atrocities against Julian Assange a part of a widespread or systematic practice, a part of an overall policy or a consistent pattern of an inhumanity, or do they instead constitute isolated or sporadic acts of cruelty and wickedness, unrelated to the "War on Terror" by the "Coalition of the Killing"?
Scathing criticisms have been expressed by civil society (including several journalists' unions), and by organisations such as the Council of Europe (Julian Assange is now listed on the Council of Europe's Protection of Journalism / Safety of Journalists site). The context around the crimes perpetrated against Julian Assange is well laid out by the Council of Europe Commissioner for Human Rights, in a statement issued on 20 February 2020 and entitled "Julian Assange should not be extradited due to potential impact on press freedom and concerns about ill-treatment"[6] The heading of that statement says it all. The body of that statement discusses the context further, as follows: "Julian Assange's potential extradition has human rights implications that reach far beyond his individual case. The indictment raises important questions about the protection of those that publish classified information in the public interest, including those that expose human rights violations. (…) Consequently, allowing Julian Assange's extradition on this basis would have a chilling effect on media freedom, and could ultimately hamper the press in performing its task as purveyor of information and public watchdog in democratic societies."
As you are aware (from the reports of Nils Melzer and other sources), there is currently sufficient evidence to show that, for many years, at least four States (US, UK, Australia, Sweden) gathered, shared—even doctored—intelligence and conspired in other ways, with a view to silencing (by all possible means) Julian Assange. All four States are known to have persecuted journalists and whistleblowers (directly or indirectly, often through secret processes and trials). They continue to do so, hampered only by a handful of people and organisations.
Here is a quick list of the widespread or systematic practice implemented by some of the perpetrators, against journalists and whistleblowers. The lists of their crimes are not exhaustive.
UK: arbitrary detention and torture of Julian Assange, police raid on the news outlet The Guardian, persecution of Katherine Gun etc.
Australia: complicit in the arbitrary detention and torture of Julian Assange, Australian Federal Police raid on ABC's headquarters over 2017 stories known as The Afghan Files etc.
USA: arbitrary detention and torture of Julian Assange, Chelsea Manning, Jeremy Hammond (with the last two having served/serving long sentences and recently released[7] from their one-year imprisonment for their refusal to be coerced into testifying against Julian Assange before the WikiLeaks grand jury)
In my view, these acts against Julian Assange, Chelsea Manning, Jeremy Hammond may be regarded as part of an overall policy or a consistent pattern of an inhumanity, and are well within the scope of Art 7 (1) (h) of the Rome Statute, as demonstrated by an application of the ICC Elements of Crimes.
Article 7 (1) (h) Crime against humanity of persecution
Elements
1. The perpetrator severely deprived, contrary to international law, one or more persons of fundamental rights.
2. The perpetrator targeted such person or persons by reason of the identity of a group or collectivity or targeted the group or collectivity as such.
(The Grand Jury is known as the WikiLeaks Grand Jury; attacks have been directed against Julian Assange, Chelsea Manning, Jeremy Hammond, inter alia, because of their identity as journalist/publisher and whistleblowers)
3. Such targeting was based on political (…) or other grounds that are universally recognized as impermissible under international law.
(The political aspects of this persecution form the bedrock of the Assange defence)
4. The conduct was committed in connection with any act referred to in article 7, paragraph 1, of the Statute or any crime within the jurisdiction of the Court.
(E.g., persecution against Julian Assange et al., was committed in connection with international crimes such as murder, extermination, torture, rape, political, racial, or religious persecution and other inhumane acts, as evidenced by the "Collateral Murder" video, and the Afghan and Iraq logs)
5. The conduct (against Julian Assange et al.) was committed as part of a widespread or systematic attack directed against a civilian population.
(E.g., against journalists/publishers or whistleblowers, against millions of war victims, and, overall, against the public at large)
6. The perpetrator knew that the conduct was part of or intended the conduct to be part of a widespread or systematic attack directed against a civilian population.
For the sake of clarity, I emphasise that the widespread or systematic attack referred to above in sub-paragraph (5) above, was/is committed against:
- Julian Assange, Chelsea Manning and Jeremy Hammond,
- millions of war victims, depriving them of their right to information and to crucial evidence that would enable them to access justice and obtain redress,
- the public at large and its right to know about crimes perpetrated in its name.
"Widespread" means that the act must be committed on a large scale and directed at a multiplicity of victims. However, according to the Kunarac Trial Chamber:
"Only the attack, not the individual acts of the accused, must be "widespread or systematic". A single act could therefore be regarded as a crime against humanity if it takes place in the relevant context: "For example, the act of denouncing a Jewish neighbour to the Nazi authorities - if committed against a background of widespread persecution - has been regarded as amounting to a crime against humanity. An isolated act, however, - i.e. an atrocity which did not occur within such a context - cannot."
"Systematic" means that the attacks must be methodical and organised. Ample evidence shows that the attacks were indeed methodical and organised (see Wikileaks site and FOIs including Stratfor emails, emails between UK and Swedish prosecutors, reports of Nils Melzer etc.).
Potential "perpetrators" (list not exhaustive) 1) States Parties to the Rome Statute of the International Criminal Court
Marianne Ny: Efforts of Swedish prosecutor, Marianne Ny, to extradite Assange were described by former Stockholm chief district prosecutor, Sven-Erik Alhem, as: "…unreasonable and unprofessional, as well as unfair and disproportionate." See also, "UN special rapporteur exposes Swedish sexual misconduct frame-up of Assange"
Keir Starmer: Candidate for the UK Labour Party leadership. Starmer was the head of the Crown Prosecution Service (CPS) during the most crucial phase of the Julian Assange case. It was his CPS that advised the Swedish prosecutors not to question Julian Assange in London, and delayed the Swedish case.
Emma Arbuthnot: When it comes to torture, judges and prosecutors have a responsibility to ensure that international standards are adhered to, within the framework of their own legal systems. Emma Arbuthnot's perverse rulings and her motivations in this abuse of process are exposed here and here (not exhaustive).
Vanessa Baraitser: Judges and magistrates have a role in safeguarding vulnerable people at court in ways which further the overriding objective and do not interfere with judicial independence. Although she is fully aware of the fact that Julian Assange is the victim torture, she has relentlessly exposed him to further torture and the very real risk of death.
Sajid David: Former UK Home Secretary, who spoke at secretive US conferences with people calling for Julian Assange's neutralisation.
Rob Davis, Governor of Belmarsh: "There have been four inmate deaths, including at least one murder, in Belmarsh in the last year alone. The past few months have seen multiple reports from the Prison and Probation Ombudsman, HM Chief Inspector of Prisons, the charity INQUEST and the National Audit Office all blast government failures for record levels of violence, self-harm and deaths, which have plagued the prison estate in England and Wales over the past few years."
Tony Blair & Gordon Brown (1994–2010): These two are responsible for war crimes committed in tandem with the US; they're doing everything possible to cover up their dirty deeds.
David Cameron, Theresa May, Boris Johnson: PMs who continued the "War on Terror" blood trail and ordered extensive police surveillance and siege outside Ecuadorian embassy from the date that Julian Assange sought asylum in 2012.
Lenin Moreno: torturing and selling Julian Assange for the price of an multi-billion dollar IMF loan, spying on Julian Assange and his lawyers through the security firm UC Global, stealing and handing over to the USA, Assange's personal belongings (including confidential information relative to his defence).
PMs from Julia Gillard to Scott Morrison: Australia's complicity is revealed, in part, in various articles.
2) Non-States Parties to the Rome Statute of the International Criminal Court
US perpetrators can still be pursued if the UN Security Council takes appropriate action. The Rome Statute gives the Security Council a unique jurisdictional role. Article 13(b) of the Statute grants the Council the power, acting under Chapter VII of the UN Charter, to refer to the ICC situations in which crimes under the jurisdiction of the court have taken place. Thus, here is my shortlist of the US perpetrators.
Fred Burton (Stratfor): Julian's crime according to Stratfor's Fred Burton:
"Assange is a PEACENIK. He NEEDS to HAVE his HEAD DUNKED in a FULL TOILET BOWL at GITMO". Ample evidence shows that the persecution strategy was masterminded by this individual and his company.
Barack Obama & Hillary Clinton: Both were instrumental in creating ISIS, imprisoning whistleblowers etc. There is record of Hillary calling for Julian's extrajudicial killing.
Donald Trump: the Trump administration has continued war crimes. Trump's personal illegal actions in this matter have been raised by Assange's defence lawyers during the February extradition hearing. He publicly asked for the death penalty.
Mike Pompeo: "I was the CIA Director; we lied, we cheated we stole"
Pompeo has said the US government would seek to shut down Assange for using "free speech values against us" and characterised Assange's organisation, WikiLeaks, as "a non-state hostile intelligence service".
Other potentially applicable parts of Article 7
Article 7 (1) (e) Crime against humanity of imprisonment or other severe deprivation of physical liberty
Elements
1. The perpetrator imprisoned one or more persons or otherwise severely deprived one or more persons of physical liberty.
2. The gravity of the conduct was such that it was in violation of fundamental rules of international law.
3. The perpetrator was aware of the factual circumstances that established the gravity of the conduct.
4. The conduct was committed as part of a widespread or systematic attack directed against a civilian population.
5. The perpetrator knew that the conduct was part of or intended the conduct to be part of a widespread or systematic attack directed against a civilian population.
Article 7 (1) (f) Crime against humanity of torture
Elements
1. The perpetrator inflicted severe physical or mental pain or suffering upon one or more persons.
2. Such person or persons were in the custody or under the control of the perpetrator.
3. Such pain or suffering did not arise only from, and was not inherent in or incidental to, lawful sanctions.
4. The conduct was committed as part of a widespread or systematic attack directed against a civilian population.
5. The perpetrator knew that the conduct was part of or intended the conduct to be part of a widespread or systematic attack directed against a civilian population.
It is understood that no specific purpose need be proved for this crime.
Article 7 (1) (k) Crime against humanity of other inhumane acts
Elements
1. The perpetrator inflicted great suffering, or serious injury to body or to mental or physical health, by means of an inhumane act.
2. Such act was of a character similar to any other act referred to in article 7, paragraph 1, of the Statute. (It is understood that "character" refers to the nature and gravity of the act.)
3. The perpetrator was aware of the factual circumstances that established the character of the act.
4. The conduct was committed as part of a widespread or systematic attack directed against a civilian population.
5. The perpetrator knew that the conduct was part of or intended the conduct to be part of a widespread or systematic attack directed against a civilian population.
* ​
The above analysis is brief and requires an extensive study and further input. Nevertheless, I respectfully request your immediate intervention to stop this slow-motion extrajudicial killing of Mr Assange through judicial process.
I look forward to hearing from you.
---
[1] https://dontextraditeassange.com/2020/03/25/press-release-assange-coronavirus/
[2] "At the end of the hearing Judge Baraitser read from what appeared to be a pre-written decision." See article in The Interregnum - "Judge refuses Julian Assange's emergency bail application despite risk posed by COVID-19"
https://theinterregnum.net/judge-refuses-julian-assanges-emergency-bail-application-despite-risk-of-covid-19/
See also, https://www.craigmurray.org.uk/archives/2020/03/the-armoured-glass-box-is-an-instrument-of-torture/
"In Thursday's separate hearing on allowing Assange out of the armoured box to sit with his legal team, I witnessed directly that Baraitser's ruling against Assange was brought by her into court BEFORE she heard defence counsel put the arguments, and delivered by her entirely unchanged."
"Drawing argument to a close, Baraitser gave her judgement on this issue. Now the interesting thing is this, and I am a direct eyewitness. She read out her judgement, which was several pages long and handwritten. She had brought it with her into court in a bundle, and she made no amendments to it. She had written out her judgement before she heard Mark Summers speak at all."
[3] "Assange Bail Application Today" https://www.craigmurray.org.uk/archives/2020/03/assange-bail-application-today/
[4] Roland Freisler was known as Hitler's Blood Judge.
[5] In March 2008 Reuters opened website "Bearing Witness" dedicated to the memory of the Reuters journalists that were killed in Iraq during the war: Taras Protsyuk (2003); Mazen Dana (2003); Dhia Najim (2003); Waleed Khaled (2005); Saeed Chmagh (2007); Namir Noor-Eldeen (2007); and an anonymous Reuters journalist who was killed in 2007.
On 15 July 2008, Reuters posted a memorial article. In it they mentioned Reuters News was seeking video footage from the U.S. military and other materials relating to the killing of Noor-Eldeen and Chmagh. The footage was taken by cameras on board the U.S. helicopters involved in the incident, in which nine other people were killed. The US did nothing.
On 5 April 2010 WikiLeaks released video footage from Apache helicopter; "Collateral Murder" https://collateralmurder.wikileaks.org/en/timeline.html
[6] https://www.coe.int/en/web/commissioner/-/julian-assange-should-not-be-extradited-due-to-potential-impact-on-press-freedom-and-concerns-about-ill-treatment#59640414_888376_True
[7] Jeremy Hammond has been returned to his former prison quarters to serve the rest of his sentence.
---
---
Letter 5 : International Criminal Court — the office of the Prosecutor

(found at: https://medium.com/@GongSteve_19445/write-to-the-international-criminal-court-concerning-the-illegal-detention-of-julian-assange-4f97708a299d)

To: otp.informationdesk@icc-cpi.int

Subject: The illegal detention of Mr Julian Assange


Hello,
My name is …………………………… I'm a ………………………….. and human rights supporter.
I'm writing to you on behalf of all the supporters of Mr Julian Assange and also on behalf of all 7.78 billion people worldwide who have a vested interest in International Law and human rights legislation.
Please accept my request for the opening of an investigation into Mr Assange's illegal detention by UK authorities and his possible and currently probable extradition to the USA where it is widely accepted he will most likely be imprisoned and probably tortured till the end of his life.
I also request that you issue a statement of intent to inform the world community of the urgent need for Mr Assange's immediate release and transfer to a safe location where he can receive urgent medical and personal care. His physical condition leaves him extremely vulnerable to contracting Coronavirus in his current high-security prison accommodation.
Time is of the essence as each passing hour greatly increases the threat to Mr Assange's life.
Please respond with the utmost urgency, his life and all our lives, freedoms and rights are very dependent on the outcome of this very serious situation.
Kind regards
Name: …….…………………………….
Country: ………………………….
---
---
Letter 6 : Australian High Commissioner to the UK, His Excellency the Honourable George Brandis QC
Letter 7 : Australian Prime Minister Scott Morrison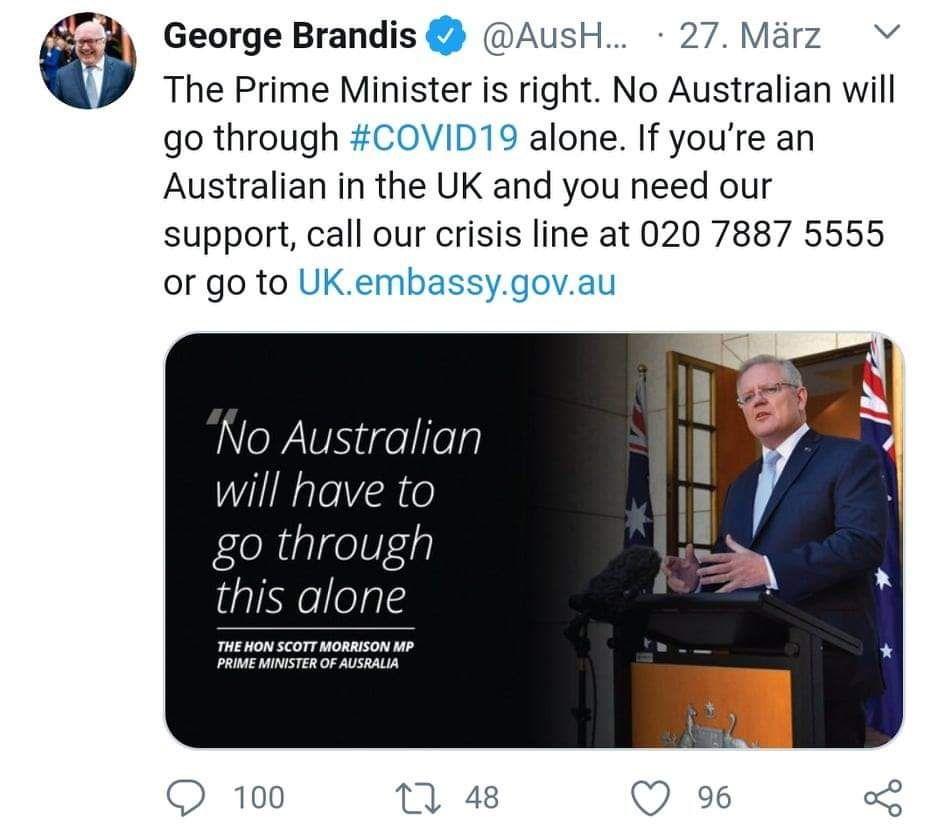 To:
The Hon Scott Morrison MP
Prime Minister
Parliament House
Canberra Act 2600
Australia

For E-Mail, please use https://www.pm.gov.au/contact-your-pm

Subject: The Life of Julian Assange is at Risk - Commitment necessary


Dear Prime Minister Morrison,
I wonder why you are not fighting for Julian Assange. Is there any reason?
Australia's diplomatic relationship with the US and UK should not be more important than a human life. Will every person be treated every like this by your Government? I note that in the case of David Hicks, who actually trained with the Al Farouq training camp para-military training in Afghanistan and spent five years in Guantanamo, the Australian Government assisted his repatriation to Australia.
Why should the case of Julian Assange, who committed no crimes, be any different. Indeed, Mr Assange, a several time Nobel Prize nominee is a man of truth and peace, who has brought knowledge of war crimes and atrocities on civilians to us.
The criminals are the people who commit the (war)crimes. Not those who publish them.
There is no fair trial happening in London. Magistrate Vanessa Baraitser is not neutral and independent. Everyone knows, everyone sees. Nobody can deny. We were there!
In many cases even the US prosecurors are neutral, for example: they are fine, with Assange sitting next to his legal Team, or with having Assanges Family names anonymous. Not so Judge Baraitser.
During the trial new examples of daily torture were occurring.
How can you, Mr Morrison, let this happen with any human being and specially with one of your own Australian people?
Mr Assange was handcuffed 11 times, strip-searched twice, had five custody cell changes, defence documents in court were taken away from him as soon as he leaves the court, the trial is conducted in a court with an emergency sound system, the judge and the prosecution don't use the microphone, Assange who sits several metres behind the others, behind a bulletproof glass wall can't hear anything that is being said in the front.
This is no fair process!
Should he be expected to hear anything through a few slits in the glass, that is said at the very front?
He is given headphones that convey nothing because no one speaks into the microphone. The judge has denied Mr Assange the right to sit next to his lawyers; even the prosecuting lawyers said it is okay by them. But the judge is against it. Not neutral!
According to the Mandela Rules, any solitary confinement of more than 15 days is torture. These examples are just a few of the things that happened in the first few days of the hearing. Madness - this absurd lack of due process has been happening in the European "Guantanamo" named Belmarsh since April 2019 to Mr Assange. And much longer to many many other prisoners.
What if your son or daughter were treated like this as a journalist merely because they published the truth?
Julian Assange is only allowed to walk outside in the courtyard for 30 minutes a day. However, if he has a visit from his father, such as yesterday, he is not allowed to walk outside. Why? What is the legal basis for that?
What reason is there not to all?
Since Mr Assange is an Australian citizen, you Mr Morrison will surely be deeply involved in the subject and informed with the smallest details and facts.
I would like to know the legal basis on which Mr Assange poses a danger. What danger does he pose? Who exactly could he endanger? Why is he in solitary confinement for more than 15 days and why is a democracy allowed to do so in 2020 without a word of protest from the Commonwealth nation of Australia?
Please let me know what Australia is doing to request fairness in the extradition proceedings and in the treatment of its citizen. Could you please inform the UK through your diplomatic channels and ask what the legal basis is for the UK breaking the Mandela Rules?
What danger would he pose to other prisoners with whom he would be in a cell? What could he possibly do in a maximum security prison?
Furthermore, on what legal basis is he being prevented from walking in the courtyard if he has visitors that day? On what legal basis was he stripped searched, if he went from one high-security wing to another high-security wing through a tunnel in order to go from cell to bulletproof glass dock? What is the legal base for that?
What is the reason and legal basis he had to change his cell five times on one day?
What is the reason his room was checked completely? Are all rooms checked regularly in solitary confinement? How often? When is this action deemed necessary?
What exactly is the accusation in the case which prevents him from physically shaking hands with his lawyer? On what legal basis is Mr Assange prohibited from shaking hands with his lawyer?
Why is the hearing being held in Woolwich Court where there is no proper sound system? Sources have written it is only a emergency sound system, which is regulary not working. The journalists complained that very often they didn't hear anything in the press area. It was argued that Assange should be spared and the travel time saved. That's why the hearing is in Woolwich Crown Court and not at Westminster Magistrates Court or are there any other reasons?
Do you, Mr Morrison, think we should be more concerned with saving travel time than require a proper working sound system, that enables a person to hear what a judge says? Also to facilitate the audience in the gallery and the journalists to hear what is being said?
Do you personally see a danger that Julian Assange poses to other people when he is not sitting in the glass case?
If yes, what is that view based on? Can you provide evidence of dangers if so?
What is the authorisation basis for changing cells five times a day/night before the start of the court?
Professor Nils Melzer, a UN Specialist and Special Rapporteur on Torture and who visited Assange on 09 May 2019, accompanied by two medical experts, the psychiatrist Dr. Pau Pérez-Sales and the forensic expert Prof. Duarte Nuno Vieira, specialised in examining potential victims of torture and other ill-treatment, to assess his Situation. He clearly stated that Assange's very severe type of symptoms is commonly the result of severe forms of psychological torture:
"Julian Assange shows symptoms of ongoing psychological torture, e.g. pathological depression & anxiety caused by over 9 years of imprisonment, 24/7 surveillance & wiretapping, tyranny by authorities, isolation and death & torture threats."
Assange already shows very strong behaviour and damage of someone who has been tortured, and this damage will probably never be cured. What are you Mr Morrison doing to prevent an Australian citizen from being tortured?
When and how often did you contact the UK Parliament or the prison administration to raise urgent objections to the UK Government's terrorist practices? How often did you Mr Morrison contacted the US prosecutor to shutdown this unfair inhumane showtrial?
What have you Mr Morrison done for the freedom of Julian Assange since he was in the Ecuadorian Embassy?
What have you done to talk to the UK Government since Assange has been in Belmarsh Prison?
What have you done since you learned about Rapporteur Prof Melzer's evidence on torture to stop these practices?
HRH Queen Elizabeth replied to my letter that she should not interfere in a political case. This in effect gives her opinion that it is not a legal case!
What is happening in UK, London, HMP Belmarsh, is an absurd show trial. Not a year, not a month, not a day, not an hour, not a minute is fair - in how Assange is being treated.
What is happening there is a crime and YOU KNOW THAT.
Will District Judge Baraitser preside over the substantive hearing when, according to many official court observers, she has already failed to behave impartially? How can she be neutral, if her supervisior Judge Abruthnot when both are involved in deeper state connerctions and are getting Paid not to be neutral? This is impossible.
1. Arbuthnot's husband - and ex-Conservative MP - Baron James Arbuthnot is listed as a former director of Security Intelligence Consultancy SC Strategy Ltd. The other two listed directors are former Head of MI6, Sir John Scarlett and Lord Carlile.
2. REVEALED: Chief magistrate in Assange case received financial benefits from secretive partner organisations of UK Foreign Office
You as a Prime Minister are surely very worried about your Australian citizen and ought to be regularly in contact with all British authorities to stop all of this.
I am really happy about one thing concerning covid19, Mr Morrison. Please allow me to quote you: "No Australian will have to go through this alone" I am facilitated, you said that. Because prisons are a trap for imates, when it comes to pandemic situations even more. 4 covid19-cases were confirmed in HMP Belmarsh, London/UK, the first inmate dies on covid19 on 07th April 2020. Julian Assange must be released.
So it is time to act.
In anticipation of your answers to my questions, I thank you very much.
Sincerely,
Name
Address
Country

---
---
Letter 8 : Lord David Prior (NHS), Senator Marise Payne (Aus. Minister for Foreign Affairs), George Christensen (MP), Andrew Wilkie (indep. MP)

(found at: https://www.assangecampaign.org.au/send-response/?id=covid)

To: Lord David Prior (Chair NHS England and NHS Improvement) - contactholmember@parliament.uk, england.contactus@nhs.net

CC:
Senator the Hon Marise Payne (Minister for Foreign Affairs) - senator.Payne@aph.gov.au\\
Mr George Christensen MP (Chair Bring Julian Assange Home Parliamentary Group)- parliamentary.group@assangecampaign.org.au\\
Mr Andrew Wilkie MP (Chair Bring Julian Assange Home Parliamentary Group)- parliamentary.group@assangecampaign.org.au\\

Subject: COVID-19 Fears for Julian Assange


Your Lordship,
I, 'my name' of 'my street' 'my City' am writing as a concerned citizen of 'my country'.
I have been following Mr Julian Assange's case and I fear for his life.
You are charged with overall responsibility for the NHS. That also carries sole medical responsibility in the UK prison systems.
Can you:
1. Confirm that the NHS will not be swamped by the coronavirus pandemic in the UK? 
2. Confirm that the NHS can prevent coronavirus infiltrating the UK prison system? 
3. Confirm adequate resources to isolate and best practices management of a pandemic 
   if the prison systems become infected? 
4. Confirm you have sufficient medical support being trained staff, ventilators, beds, 
   ICU equipment, adequate protective equipment at hand if your coronavirus 
   containment plans within prisons fail?  
5. Confirm Julian Assange is fully physically fit and faces zero risk from the 
   coronavirus?  
 
Julian Assange is an unconvicted detainee and his medical condition under long term confinement is frail.
If you cannot answer an unreserved 'YES' to the five questions above, Julian Assange must be released to the care of his family immediately.
Please support Julian's bail application on the grounds of covid-19 risk
Thank you for your time.
Sincerely,
my name
my email
References: 1. British prisoners 'will die' from coronavirus
  https://www.standard.co.uk/news/uk/coronavirus-outbreak-prisoners-will-die-andrea-albutt-a4386451.html
2. London hospitals facing 'tsunami' of patients (Chris Hopson)
  https://www.theguardian.com/world/2020/mar/26/london-hospitals-facing-tsunami-of-coronavirus-patients-overwhelmed
3. Ohio Judges Are Releasing People From Jails
  https://www.motherjones.com/coronavirus-updates/2020/03/ohio-judges-are-releasing-people-from-jails-to-fight-coronavirus-its-a-good-idea/
4. Nazanin Zaghari-Ratcliffe released from Iran prison
  https://www.bbc.com/news/uk-51937629
5. Doctors For Assange
  https://doctorsassange.org
6. Doctors For Assange: Covid-19 warning in Reply to Australian Government
  https://doctorsassange.org/doctors-for-assange-reply-to-australian-government-march-20