This is an old revision of the document!
---
Nils Melzer
"In 20 years of work with victims of war, violence and political persecution I have never seen a group of democratic States ganging up to deliberately isolate, demonize and abuse a single individual for such a long time and with so little regard for human dignity and the rule of law."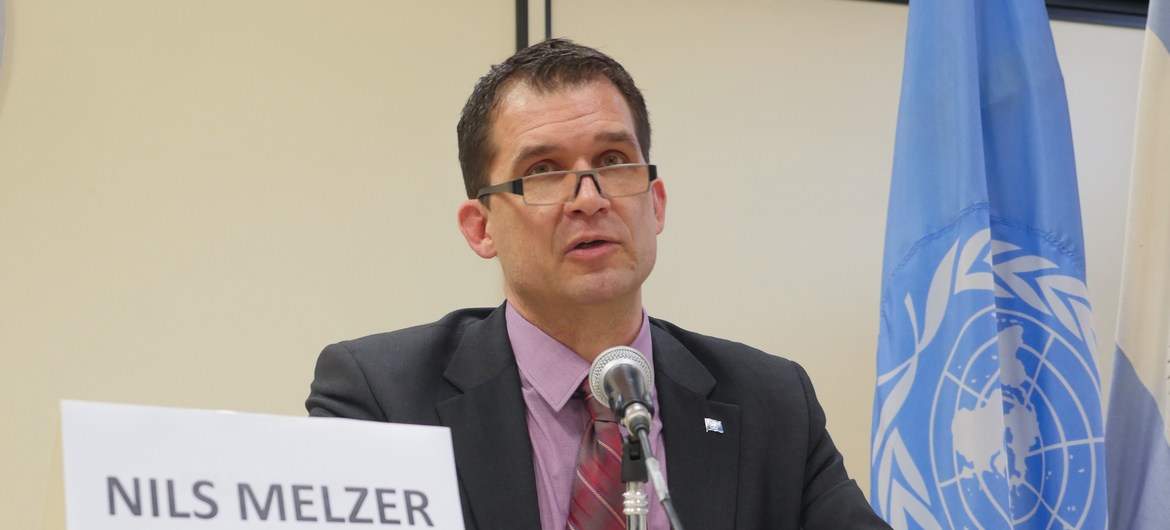 Professor Nils Melzer is an expert, author and practitioner in the field of international law. Since 1st November 2016, Melzer serves as the United Nations Special Rapporteur on Torture and other Cruel, Inhuman or Degrading Treatment or Punishment.
Involvement
December 2018
Prof. Melzer was asked by Assange lawyers to intervene, but declined, cause he was overloaded with other petitions and wasn't really familiar with the case. His impression, largely influenced by the media, was also colored by the prejudice that Julian Assange was somehow guilty and that he wanted to manipulate him.

March 2019
Assange lawyers approached Prof. Melzer for a second tim,e because indications were mounting that Assange would soon be expelled from the Ecuadorian Embassy. They sent him a few key documents and a summary of the case and he figured that his professional integrity demanded to at least take a look at the material. Later he said, he has never seen a comparable case!
"The case is of symbolic importance and affects every citizen of a democratic country."
His reasons are given as follows:

Assange was disclosing evidence of systematic torture by the US army, but he himself has been persecuted for this.

He has been so ill-treated that he is now exhibiting signs of psychological torture.

There is a high chance of him being extradited to a country which Amnesty International has condemned for its use of torture. He also feels that the case has a special symbolic significance for the future of our democracies.
Visit and Assessment
Melzer visited Julian Assange in prison on 9 May 2019, accompanied by two medical experts, the psychiatrist Dr. Pau Pérez-Sales and the forensic expert Prof. Duarte Nuno Vieira, specialised in examining potential victims of torture and other ill-treatment, to assess his Situation.

"Julian Assange shows symptoms of ongoing psychological torture, e.g. pathological depression & anxiety caused by over 9 years of imprisonment, 24/7 surveillance & wiretapping, tyranny by authorities, isolation and death & torture threats."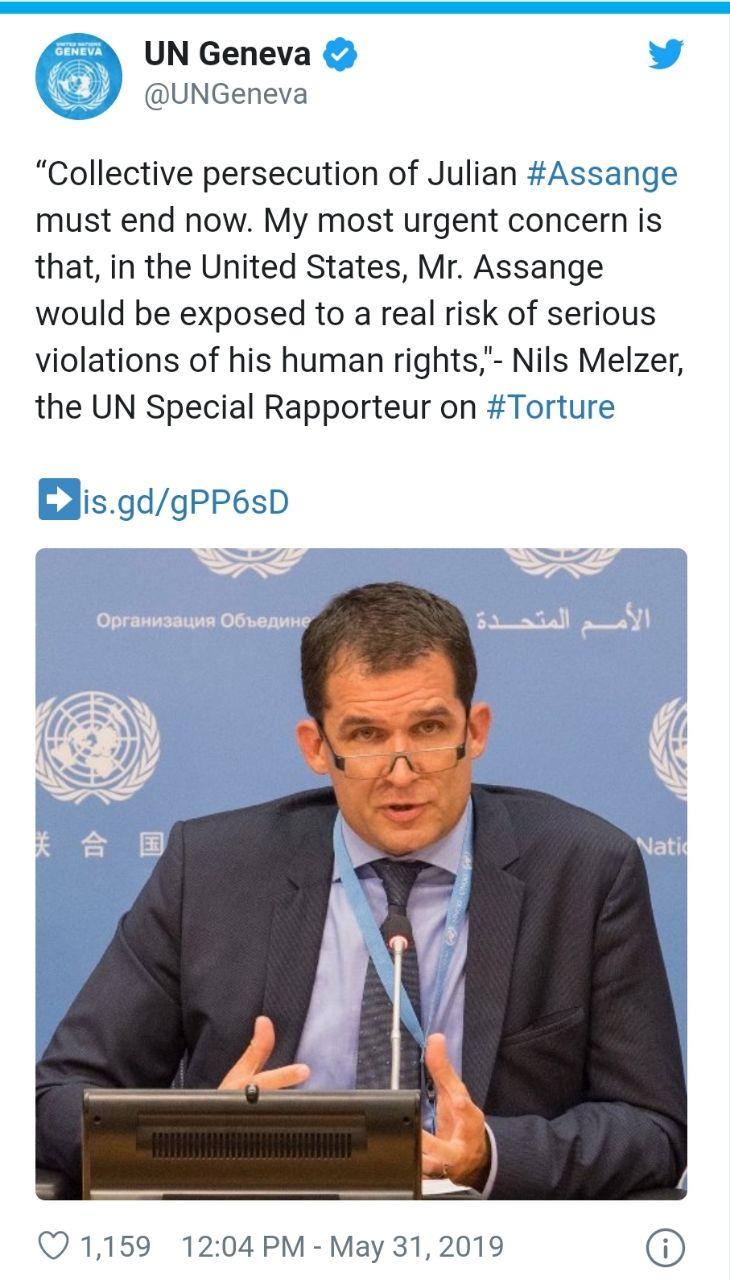 He described the treatment Assange had received from the United States, United Kingdom, Sweden, and Ecuador as psychological torture and the US indictments as the criminalisation of investigative journalism.

In a November 2019 statement Melzer criticised the UK government for placing Assange's life at risk by ignoring previous warnings about the state of his health. He said Assange "continues to be detained under oppressive conditions of isolation and surveillance, not justified by his detention status". He also said that Assange's access to legal counsel and documents were being severely obstructed, preventing him from preparing a defence against "the world's most powerful government". Melzer asked the UK government to stop Assange's extradition to the US, release him and allow him to "recover his health and rebuild his personal and professional life". The Sweden prosecution announced that the investigation had been dropped as of 19 November 2019. The same month Melzer also strongly criticised Assange's treatment in all the legal proceedings in the UK, US, Ecuador, and Sweden, stating that there was "no due process proceeding whatsoever" and "severe violations of due process consistently".
According to Prof. Melzer, the constitutional state seems to be paralyzed in a kind of shock-induced paralysis in the Assange case.
Inkonsistencies
"I speak fluent Swedish and was thus able to read all of the original documents. I could hardly believe my eyes: According to the testimony of the woman in question, a rape had never even taken place at all. And not only that: The woman's testimony was later changed by the Stockholm police without her involvement in order to somehow make it sound like a possible rape. I have all the documents in my possession, the emails, the text messages.
The statement was edited without the involvement of the woman in question and it wasn't signed by her. It is a manipulated piece of evidence out of which the Swedish authorities then constructed a story of rape. Why would the Swedish authorities do something like that? The timing is decisive: In late July, Wikileaks – in cooperation with the «New York Times», the «Guardian» and «Der Spiegel» – published the «Afghan War Diary». It was one of the largest leaks in the history of the U.S. military. The U.S. immediately demanded that its allies inundate Assange with criminal cases. We aren't familiar with all of the correspondence, but Stratfor, a security consultancy that works for the U.S. government, advised American officials apparently to deluge Assange with all kinds of criminal cases for the next 25 years.
The international law expert and UN Special Rapporteur Prof. Melzer also said:
"The case of Julian Assange is nothing but a modern show trial. Politically motivated prosecutors, denial of justice, manipulated evidence, biased and prejudiced judges, unlawful surveillance, denial of the rights of defence and abusive prison conditions - what sounds like a textbook example of dictatorial arbitrariness is in reality a real precedent in the middle of Europe. Furthermore, I have no illusions about the rule of law in the proceedings, which Assange would have expected in the United States. Like all the other espionage defendants, he would be tried in Alexandria, Virginia, where the majority of the population is employed by the secret services, the defense department and defense companies, so that the jurors selected there would also be biased in favor of the prosecution from the outset. These trials are always conducted by the same single judge, judged behind closed doors and on the basis of secret evidence, and have never led to an acquittal. Those who do not confess are punished draconically. Assange is threatened with an almost absurd 175 years' imprisonment in the USA - not for a terrible act of violence, but solely for having proven the most serious crimes to the American state power. The revealed war crimes will go unpunished, including systematic torture and massacres of civilians, wounded and prisoners".
Further Information and Sources