Chelsea
Manning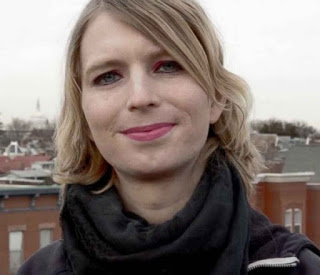 "I prefer a painful truth over any blissful fantasy."
Chelsea Elizabeth Manning (*17th December 1987) is a network security and artificial intelligence expert, activist and whistleblower. She is a former military intelligence analyst and was a political prisoner.
The former United States Army soldier was convicted by court-martial in July 2013 of violations of the Espionage Act and other offenses, after disclosing to WikiLeaks nearly 750,000 classified or unclassified but sensitive, military and diplomatic documents.
Whistleblowing
22-year-old Army intelligence analyst Manning initiated a series of online chats with former hacker Adrian Lamo. She hoped to get advice from Lamo, as this act was very similar to Lamo's earlier activities of committing crimes of conscience. Lamo himself saw this plan as a danger to the national security of the United States, so he alerted U.S. state authorities. The chat conversations continued over 5 days, during that Manning claimed that she was responsible for leaking classified material to the Wikileaks whistleblower site.
Lamo tipped off the FBI and the Army about Manning's Claims. Since day three he gave the US authorities access to his copy of the chat logs, this started the investigation against Manning. On May 26 2010, Manning was seized by Army authorities and put into pre-trial detention in Kuwait. Manning remained in Kuwait while the Army Criminal Investigation Division and other agencies investigate whether she leaked classified information and determine if she should be charged with any crime. In the military trial of the WikiLeaks informant, Lamo testified as one of the prosecutors' key witnesses. He gave information about his contacts to the accused soldier.
Manning leaked classified and not classified military and diplomatic cables.
Below are 10 of the most revelatory leaks:
Footage showing a US helicopter airstrike on iraqui civilians, including children and Reuters stuff, while the crew is laughing and congratulating each other like in a Videogame.

Documents dating from 2004 to 2009 about the Afghan war. One set raised concerns in the US by suggesting alleged support for the Taliban from Pakistan.

Details of an incident from 2007 in which US marines escaping an attack outside the city of Jalalabad fired their guns indiscriminately, killing 19 unarmed civilians and wounding 50 more.

A series of revelations about events in Iraq in 2010. Chief among these was that US authorities failed to investigate hundreds of reports of abuse, torture, rape and even murder by Iraqi police and soldiers.

Another Iraq-related Revelation: US collated details of more than 100,000 people killed in Iraq following the invasion of the country, including more than 15,000 deaths that were previously unrecorded.

More than 250,000 classified cables from US embassies, carrying confidential and often blunt diplomatic assessments of US allies and foes. One of the most dramatic of these showed that King Abdullah of Saudi Arabia has repeatedly urged the US to attack Iran to destroy its nuclear programme.

The US was running a secret intelligence campaign targeted at the leadership of the United Nations, including the secretary general, Ban Ki-moon, and representatives from China, Russia, France and the UK.

Cables painted a hugely unflattering US view of Russia as "virtual mafia state".

Candid view of rampant government corruption in Afghanistan.

Final tranche of revelations, in April 2011, came from 759 "detainee assessment" dossiers about those held at the Guantánamo Bay prison, written between 2002 and 2009. They spell out the extent of involvement US authorities believe each detainee has had with al-Qaida, the Taliban or other terror groups. The files showed that some prisoners had long ago been cleared for release but remained detained.
Manning disclosed Information revealed the true nature of 21st century asymmetric warfare and diplomacy. The biggest leaks of secret Information in history.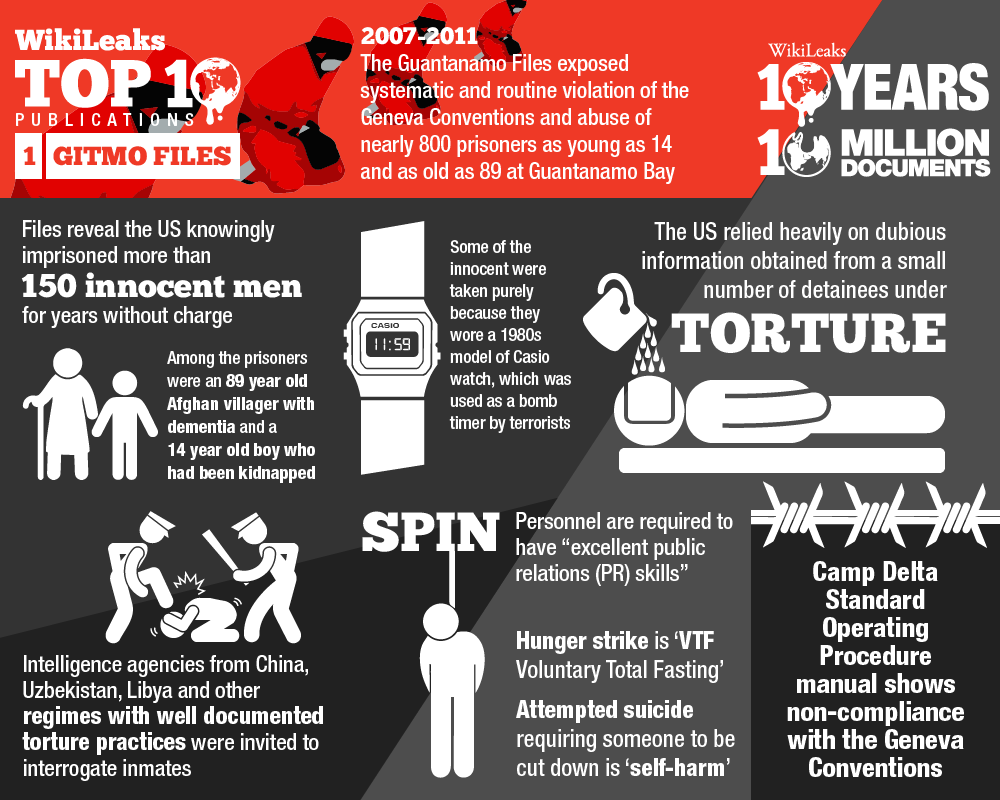 Julian Assange, as Mannings confidant at WikiLeaks, is accused of motivating Manning to get more documents and helping her to hack passwords. Assange is jailed in a UK high security prison under very bad conditions and is facing US extradition. Totally there are 18 charges against him.
Asanges first publication from Mannings leaks was the the helicopter gunsight video, now known as the "Collateral Murder" footage. It revealed airstrikes in New Baghdad, on 12th July 2007. It showed how the crew of two U.S. AH-64 Apache helicopters fired on a group of men and later also children and laughed at some of the casualties and congratulated each other for good shots. It was published on 5th April 2010.
Charges and Prison
Manning's offenses carried a maximum sentence of 90 years. The government asked for 60 years as a deterrent to others, while Manning's lawyer asked for no more than 25 years. She was sentenced on August 21 to 35 years in prison, reduction in rank to "private" , of all pay and allowances, and a dishonorable discharge. She was given credit for 1,293 days of pretrial confinement, including 112 days for her treatment at Quantico, and would have been eligible for parole after serving one-third of the sentence. She was confined at the United States Disciplinary Barracks (USDB) at Fort Leavenworth, Kansas.
Manning was charged with 22 offenses, including aiding the enemy, which was the most serious charge and could have resulted in a death sentence. She was held at the Marine Corps Brig, Quantico in Virginia, from July 2010 to April 2011, under Prevention of Injury status - which entailed de facto solitary confinement and other restrictions that caused domestic and international concern - before being transferred to the Joint Regional Correctional Facility at Fort Leavenworth, Kansas, where she could interact with other detainees. She pleaded guilty in February 2013 to 10 of the charges. The trial on the remaining charges began on June 3, 2013. On July 30, she was convicted of 17 of the original charges and amended versions of four others, but was acquitted of aiding the enemy.
The sentence was criticized as "unjust and unfair" by The Guardian, and as "excessive" by The New York Times.
She served a total of seven years of her 35 year sentence before President Obama commuted her sentence to time served – she was released in May 2017. After release, Manning earned a living through speaking engagements. From March 8, 2019 to March 12, 2020, except for a week from May 9 to 16, Manning was jailed for contempt in the federal detention center in Alexandria, Virginia.  Judge decided, she could be incarcerated for up to 18 months, and that she'd be fined $500 per day for 30 days, and $1,000 per day after 60 days. 
Release
Federal District Court Judge Anthony J. Trenga in Victoria/ Virginia ordered the immediate release of Chelsea on 13th March 2020. She got released and accrued a civil fine of $256,000, for refusing to testify before a grand jury investigating WikiLeaks founder Julian Assange. Manning has previously indicated that she will not betray her principles, even at risk of grave harm to herself. The huge ammount of a quarter Million was collected by supporters in only two days.
Kelly Wright, Mannings friend said: "She is completely exhausted from this ordeal. She lost her apartment, was forced to put all of her belongings in storage, and was unable to earn any income whatsoever over the course of the past year." "Chelsea really appreciates how fast you came through for her. It will take a while, but we believe she is on the road to recovery."
Gender Transition
In 2013 Chelsea coming out as a transgender. She shared a part of the process, her thoughts and her feelings online: "I am Chelsea Manning. I am a female. Given the way that I feel, and have felt since childhood, I want to begin hormone therapy as soon as possible."
After a hard fight the Army agreed in 2016 to provide her hormone therapy and a surgery. A monumental step for the LGBTQ community.
After her gender reassignment surgery in 2018 she shared a photo from hospital with her followers on Twitter.
Further informations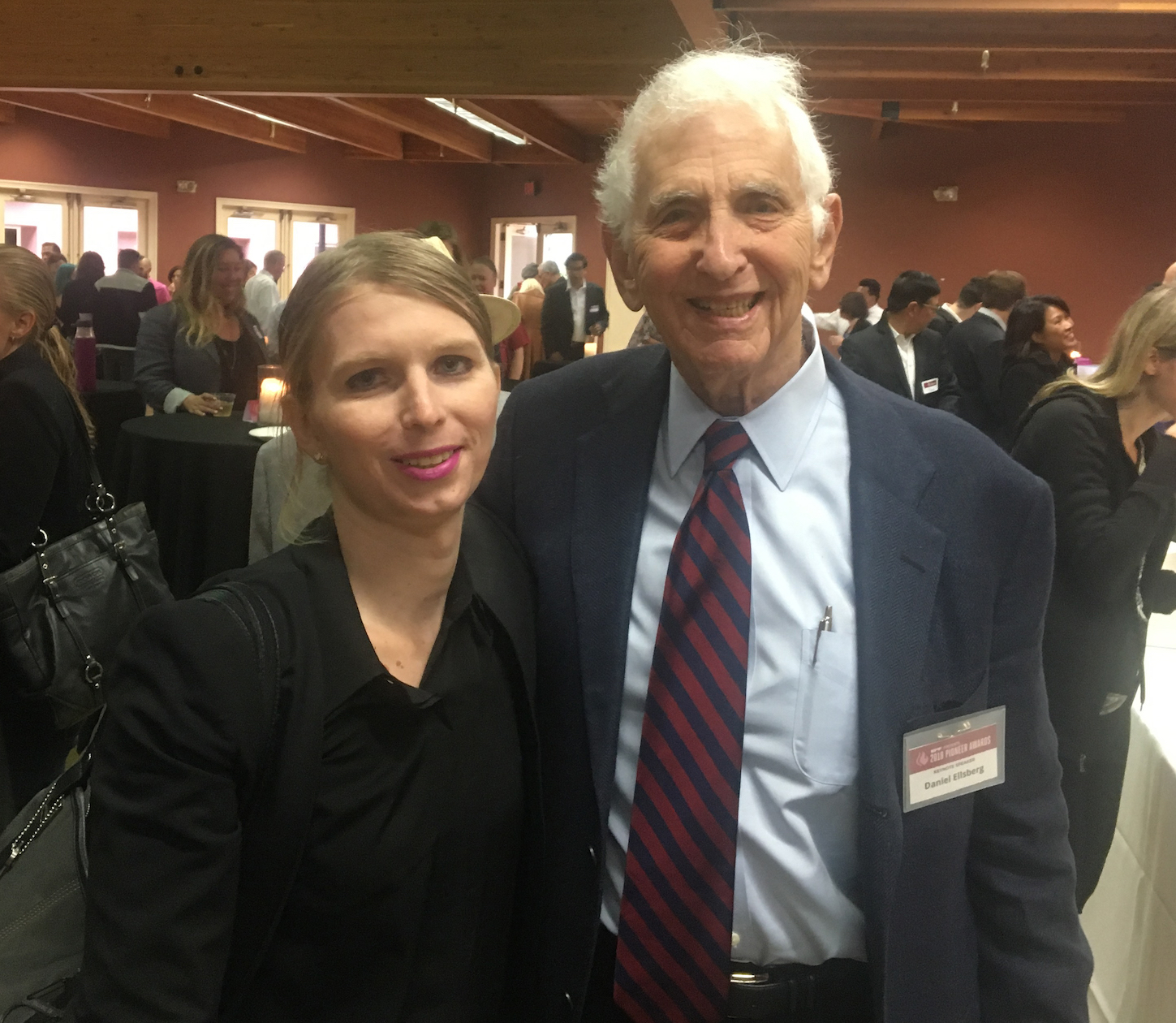 Doctors4Assange Statement on Chelsea Manning
https://doctorsassange.org/doctors4assange-statement-on-chelsea-manning/
Statement from Daniel Ellsberg on Manning
https://www.releasechelsea.com/individuals_supporting_chelsea/daniel_ellsberg_statement/
UN Special Rapporteur on Torture, Prof. Nils Melzers Letter
https://spcommreports.ohchr.org/TMResultsBase/DownLoadPublicCommunicationFile?gId=24925
Letter from Chelsea Manning to Judge Anthony Trenga
https://www.releasechelsea.com/statements_by_chelsea/chelsea_letter_to_judge_trenga/
Declaration of Chelsea Manning
https://www.aaronswartzday.org/wp-content/uploads/2019/08/29-1-Chelsea-Manning-Dec.pdf
Chelsea on Wikileaks, trans politics & data privacy
https://www.youtube.com/watch?v=l_g2WjE2Ifo
2011
"Whistleblowerpreis" by the German Section of the International Association of Lawyers against Nuclear Arms and the Federation of German Scientists
2012
"People's Choice Award" by Global Exchange
2013
US Peace Prize by the US Peace Memorial Foundation "for conspicuous bravery, at the risk of his own freedom, above and beyond the call of duty"
Unordered List ItemSean MacBride Peace Prize by the International Peace Bureau
2014
Sam Adams Award by Sam Adams Associates for Integrity in Intelligence
Icelandic and Swedish Pirate Party MPs nominated Manning and fellow whistleblower Edward Snowden for the 2014 Nobel Peace Prize
2015
Paper magazine commissioned artist Heather Dewey-Hagborg created 2D DNA phenotype portraits of Chelsea Manning using DNA collected from cheek swabs and hair clippings sent to the artist from the incarcerated soldier. 3D printed versions of the portraits premiered at the World Economic Forum in 2016.
2017
Manning (by then released from prison) and Dewey-Hagborg presented their collaboration as part of an exhibition at the Fridman Gallery in New York City.
EFF Pioneer Award in recognition of Chelseas actions as a whistleblower and for her work as an advocate for government transparency and transgender rights.
Newsmaker of the Year by Out, which noted her "whistle-in-the-wind tenacity that belies the trauma she's had to contend with".
Bitch listed her among the first-ever "Bitch 50" impactful creators, artists, and activists in pop culture, recognizing her as "a leading voice for transgender and healthcare rights".
Foreign Policy honored Manning as one of its forty-eight 2017 Global Thinkers "for forcing the United States to question who is a traitor and who is a hero".